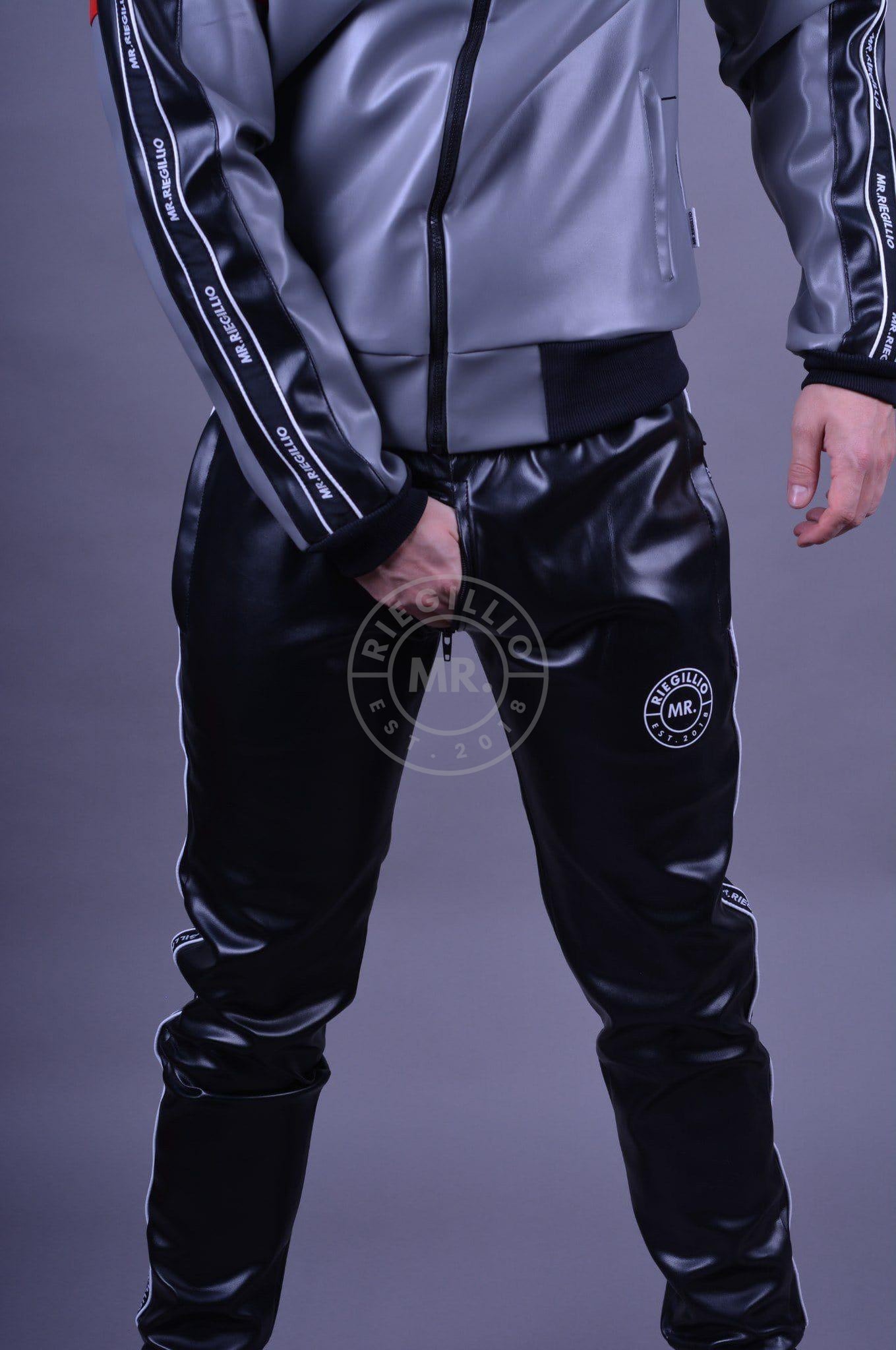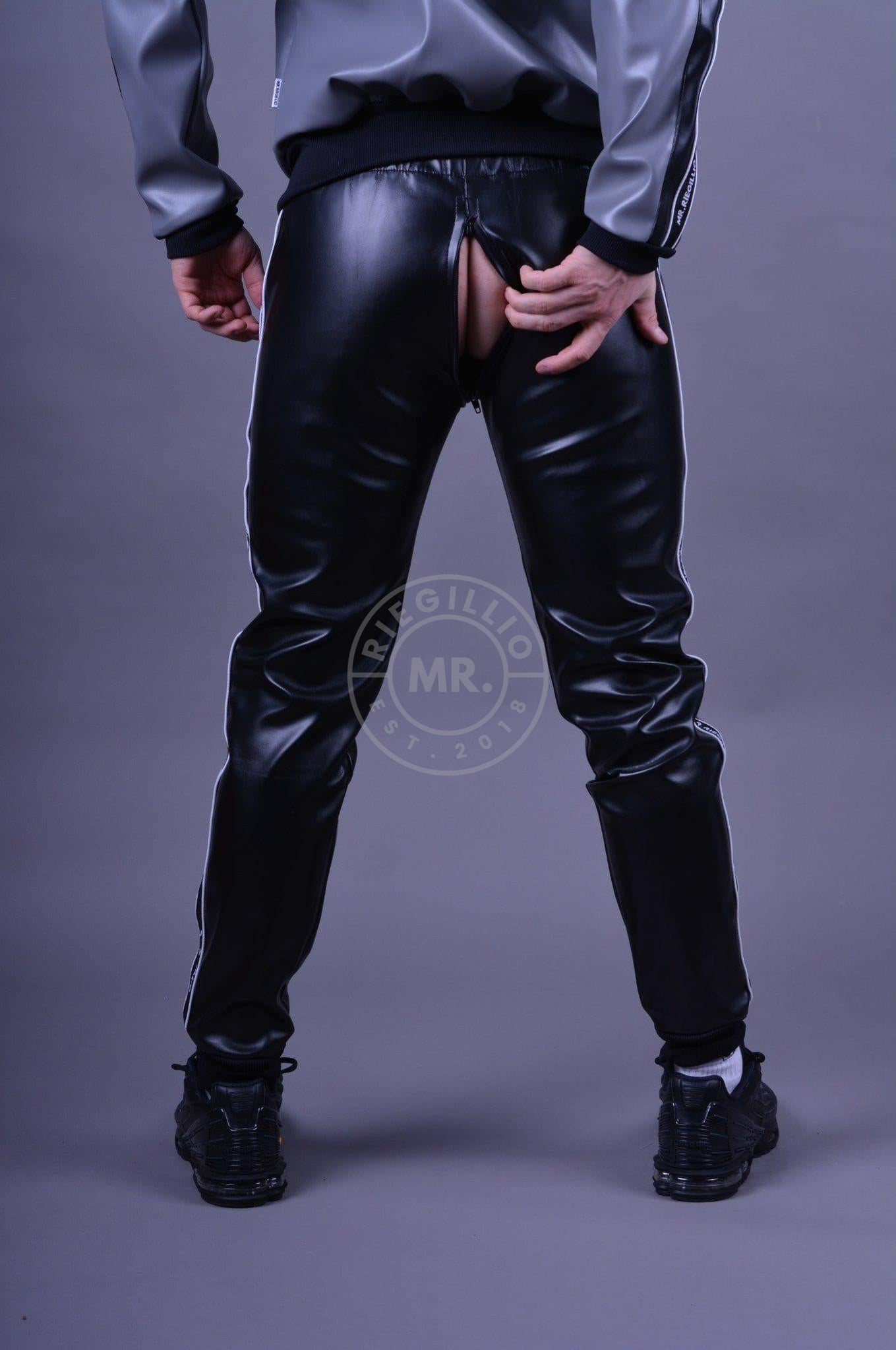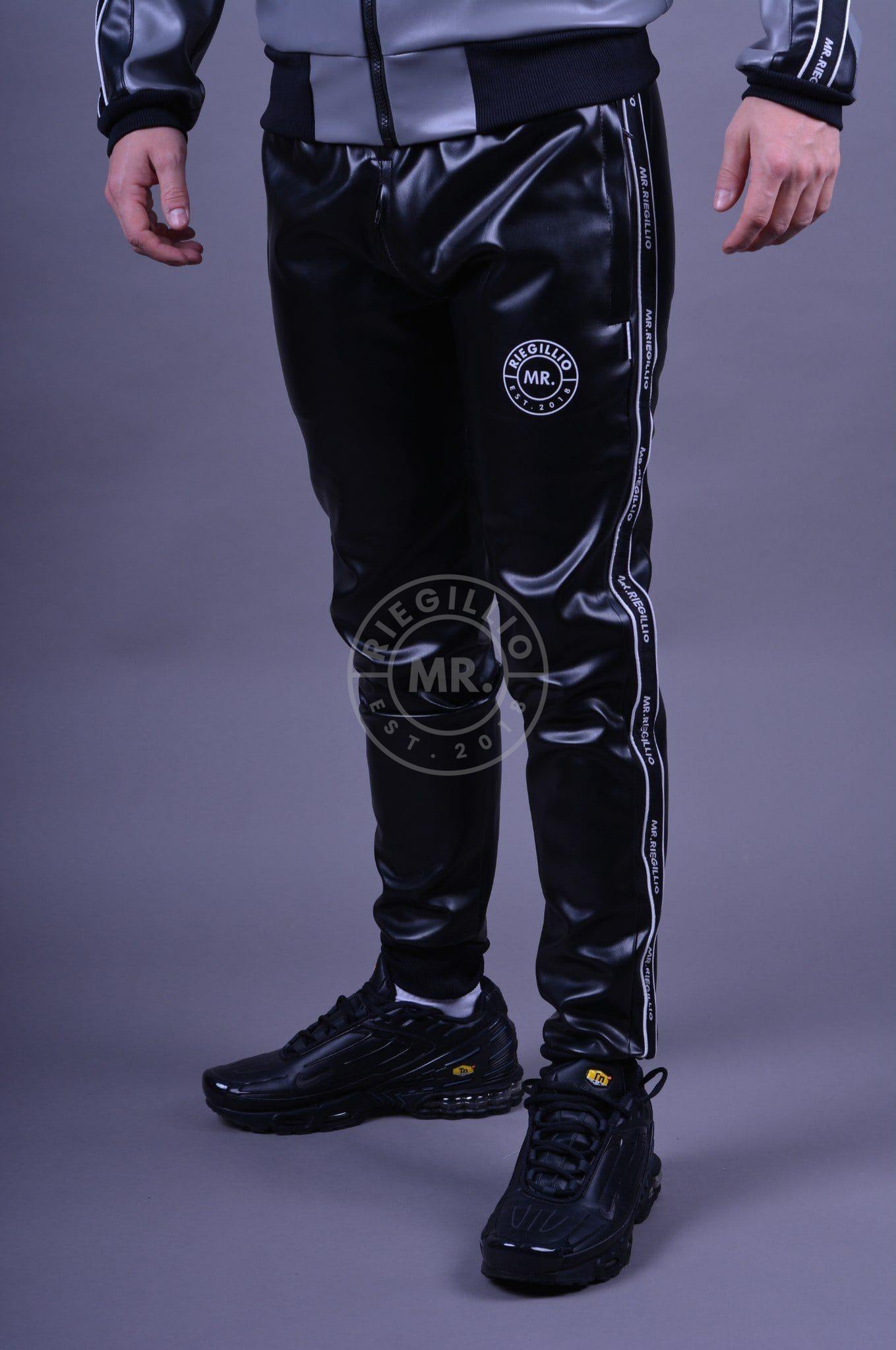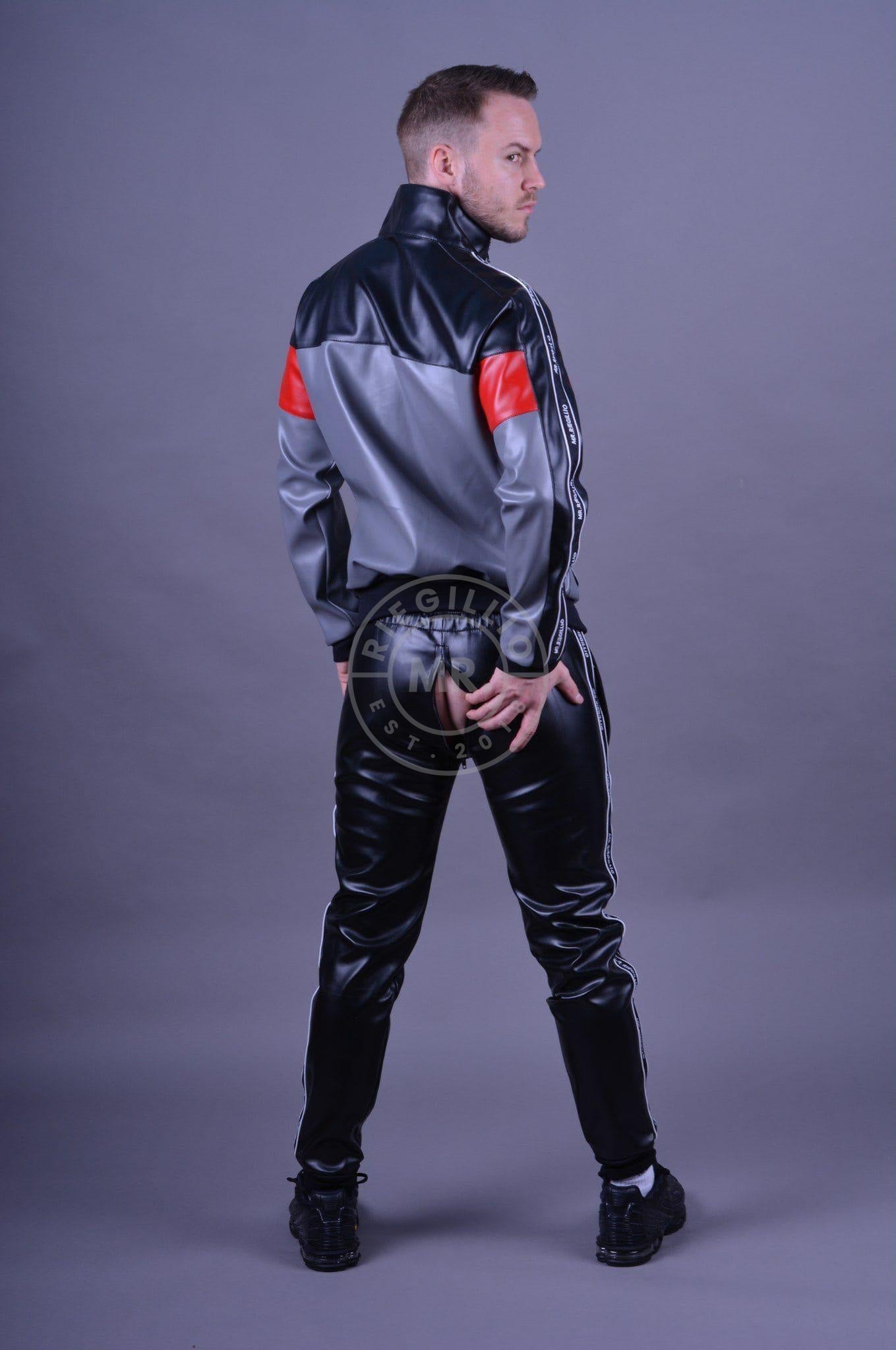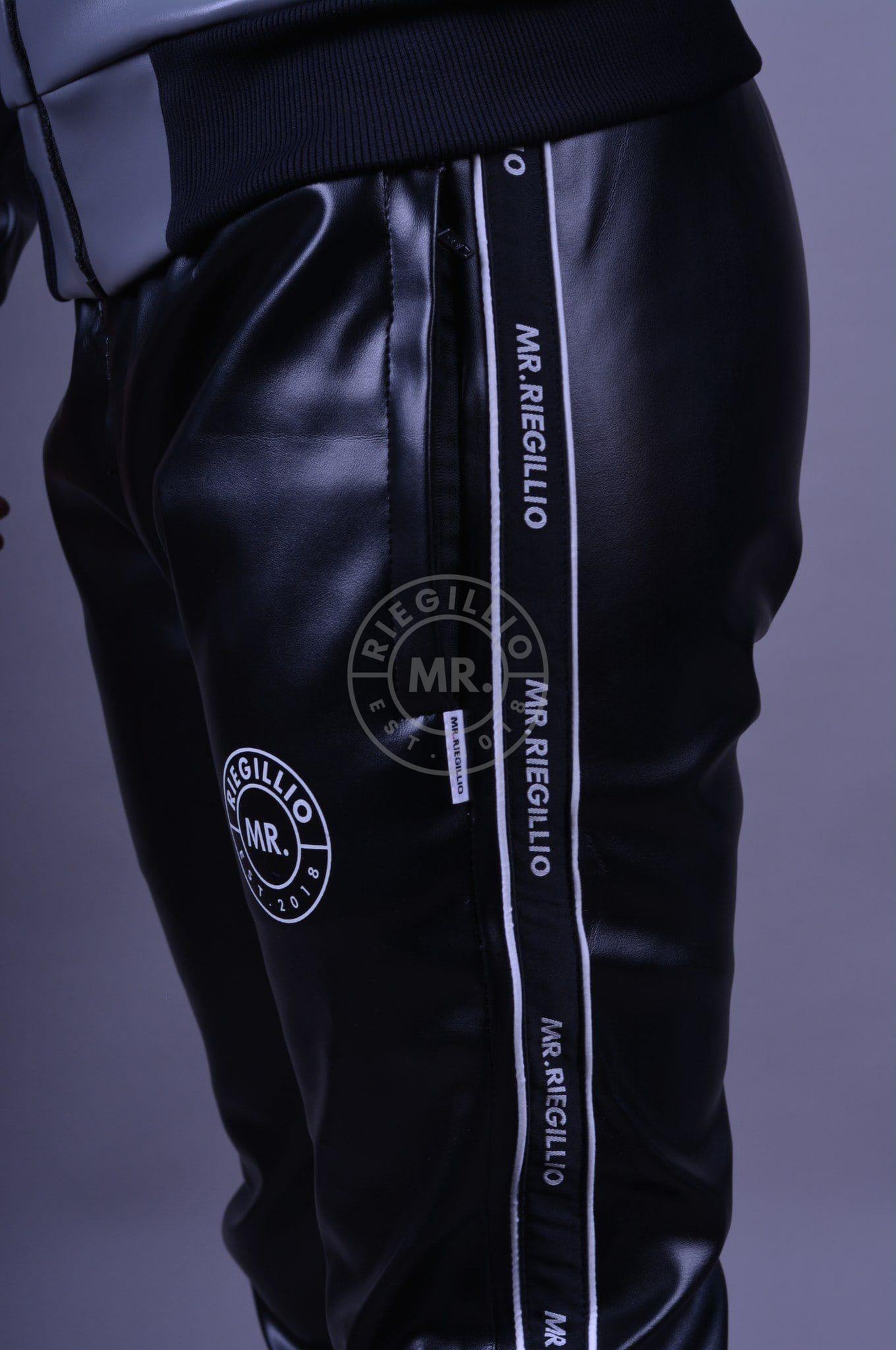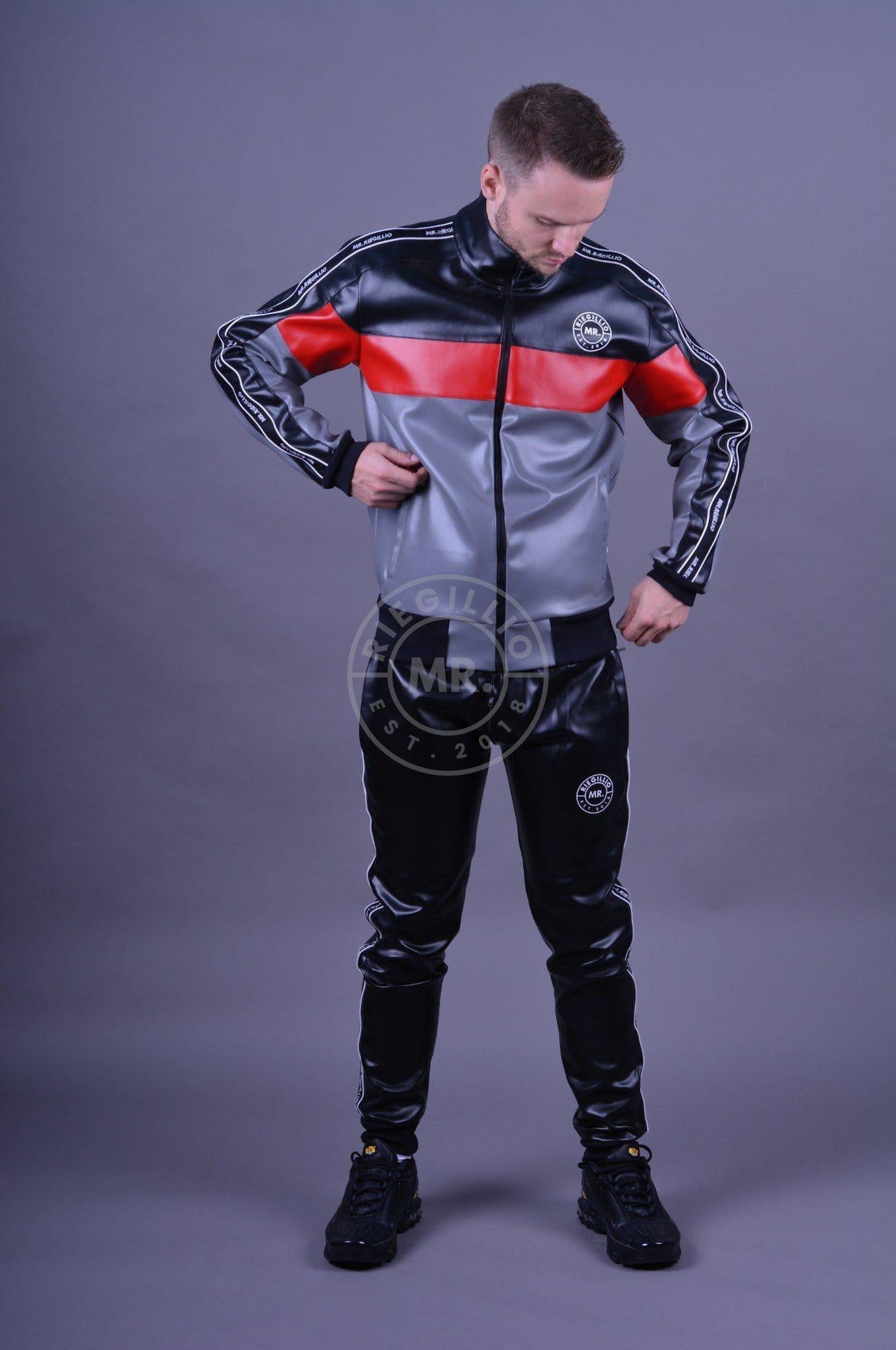 MR. TRICOLOR Tracksuit Pants - Logo Trim
Sale price
€62.97
Regular price
€89.95
(/)
Boy, oh boy, are you going to love these track pants! We designed these black, leatherette pants with comfort and sensual style in mind. The buttery material is lined with a comfort lining that hugs your body and moves with you. The elasticized draw-string waist and ankle cuffs ensure a wonderful fit throughout.

To add a spicy feature, these pants have a full, thru-zip from the front to the back with 3 zipper runners… you can open them as much or as little as you like ;)~ You can feel completely comfortable everywhere these pants take you!

Additionally, these pants are branded with MR. RIEGILLIO trim running from the waist to the ankle, a MR. logo on the front left thigh and also feature zippered side pockets. 

Product Notes:
- See sizing chart to find your perfect fit. This pants runs true to size, normal fit.
- This vegan leather fabric can contain creases, due to the thickness of the material, which add unique individuality to the garment,
- Keep your gear looking amazing by checking out our care instructions and cleaning tutorial video.
- Don't forget your faux leather cleaner!

Vegan Leather Care Instructions

Well, well, well, I'm your fabulous faux leather clothing, and I've got some tidbits to share about how to keep me looking fantastic and fashionable!

First off, if you want to give me a little spa day, just grab a wet towel or make myself a nice, not-too-hot, warm handwash. Cleaning me is a breeze, but here's the kicker – after the pampering, make sure to protect me. If not, I might go all dry and develop some nasty cracks or splits, and nobody wants that fashion drama!

When it's time for me to dry off, treat me like royalty. Lay me in my natural shape on a drying rack or hang me up to bask in the fresh air. And remember, please, pretty please, don't even think about putting me in the dryer. We're not pals with the dryer!

As for storage, here's the deal: no folding allowed! I prefer the VIP treatment on a clothing hanger, and that's how we'll keep me looking runway-ready.

Now, let's talk about some kitchen shenanigans. We all love to bake, but watch out for the butter – it's a "CriscNO" situation! And if you're dealing with oil-based liquids, give me some space. We're not the best of friends. But hey, if you're into adventures, I'm cool with some oil-based fun.

Last but not least, you might notice a few wrinkles in my material. But guess what? It's not a fashion faux pas; it's what makes me unique and fabulous. Those wrinkles are my fashion signature, and they're not up for debate.

So there you have it, the lowdown on keeping your faux leather attire looking sleek and chic. Let's rock the fashion world together!

Check out all our cleaners here!
Not sure about sizing? Or have another question?

We are happy to help!

Click

here

to contact us and we'll response with lightning speed!
EUROPE - EU COUNTRY
€5,99
All orders are shipped with FedEx International Connect Plus

EUROPE - NON EU COUNTRY
€9,99
All orders are shipped with FedEx International Priority and does not include VAT & Customs

DEUTSCHLAND
€5,99
Zustellung nach Hause durch Hermes oder DHL Lieferung an Ihre vorausgewählte Packstation.
Optional > DHL Express: €24,99

NEDERLAND & BELGIË
€5,99
Je kunt kiezen tussen thuislevering, of bij een PostNL afhaalpunt.

RÉPUBLIQUE FRANÇAISE
5,99 €
Livraison à domicile par FedEx ou livraison par DHL à votre Point de Service préférentiel.

UNITED KINGDOM
€9,99 (+/- £8,70)
All orders are shipped with FedEx International Priority and includes VAT & Customs!

UNITED STATES
€19,99 (+/- $21.70)
All orders are shipped with FedEx International Priority and includes VAT & Customs!

REST OF THE WORLD
€19,99
All orders are shipped with FedEx International Priority and does not include VAT & Customs
Excellent quality and service

Personalised and gift wrapped. Excellent quality and feels so good to wear

Qualitatif mais mal taillé

Le pantalon est très beau mais il est trop petit, je ne peux pas le mettre. Pourtant je me suis basé sur votre référentiel des mesures. C'est dommage.

Sorry to hear that! I just had a look and you didn't process an exchange request, happy to swap sizes! ^Simon

The best amazing!!

Absolutely love these!! Lots of attention to detail not only the zip, but white material stripes down the leg and circular logo of Mr Riegillio, even has the branding logo on the tiny plastic ends of the pull string cord. All making such a quality product…It's awesome and I'm addicted. Bought a pair for my mate too. Thank you.

Great kit and shopping experience

Excellent shopping experience (quick shipment and handwritten thank you card).

The Pants are extremely comfortable and despite the significant weight sitting very well on my body.

The feel nice and the trough zipper is clearly designed for play but is very easy to adjust and sturdy.

Amazing Buy

great quality , fast delivery , recommend highly ;)
Choose options