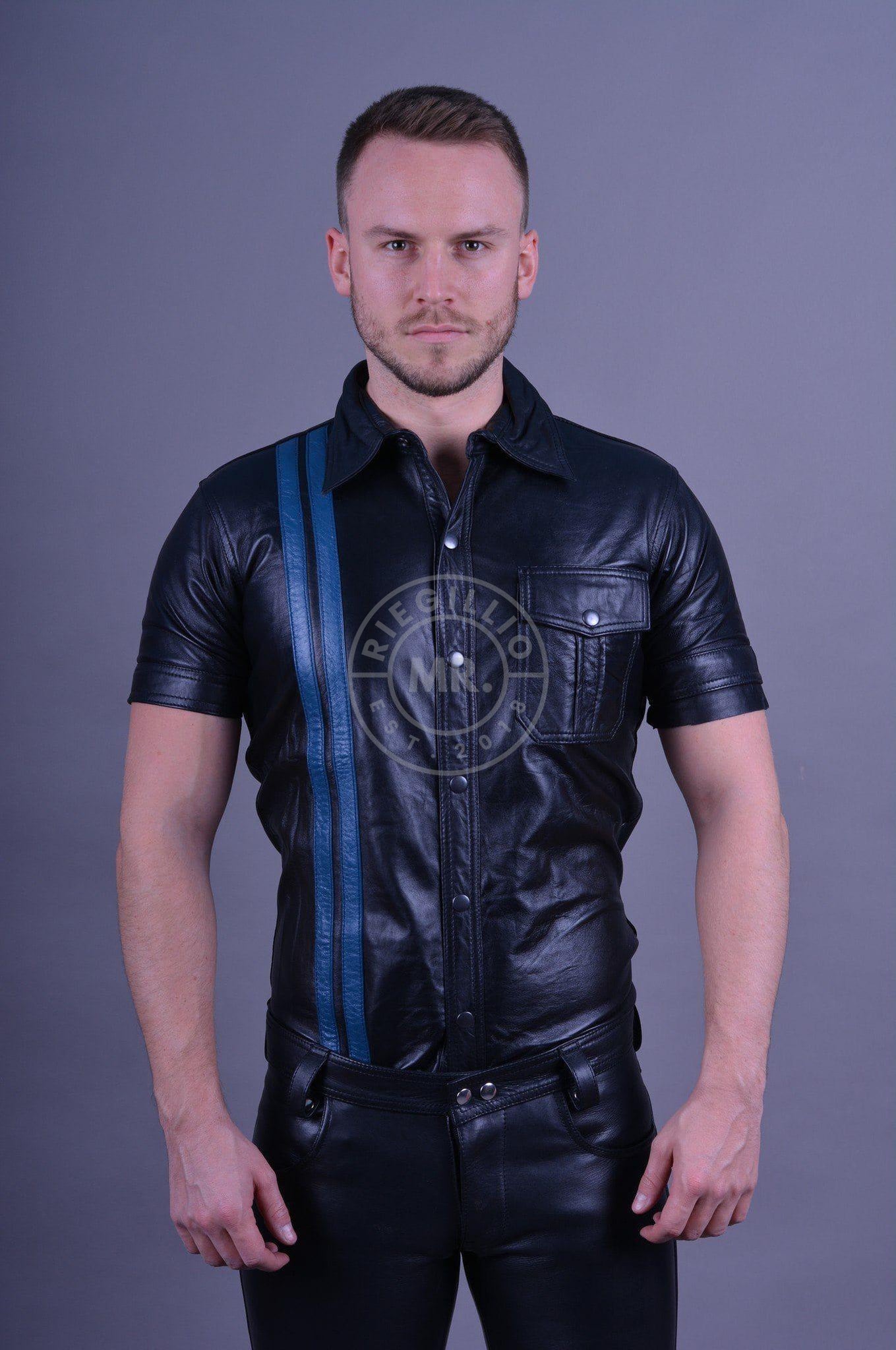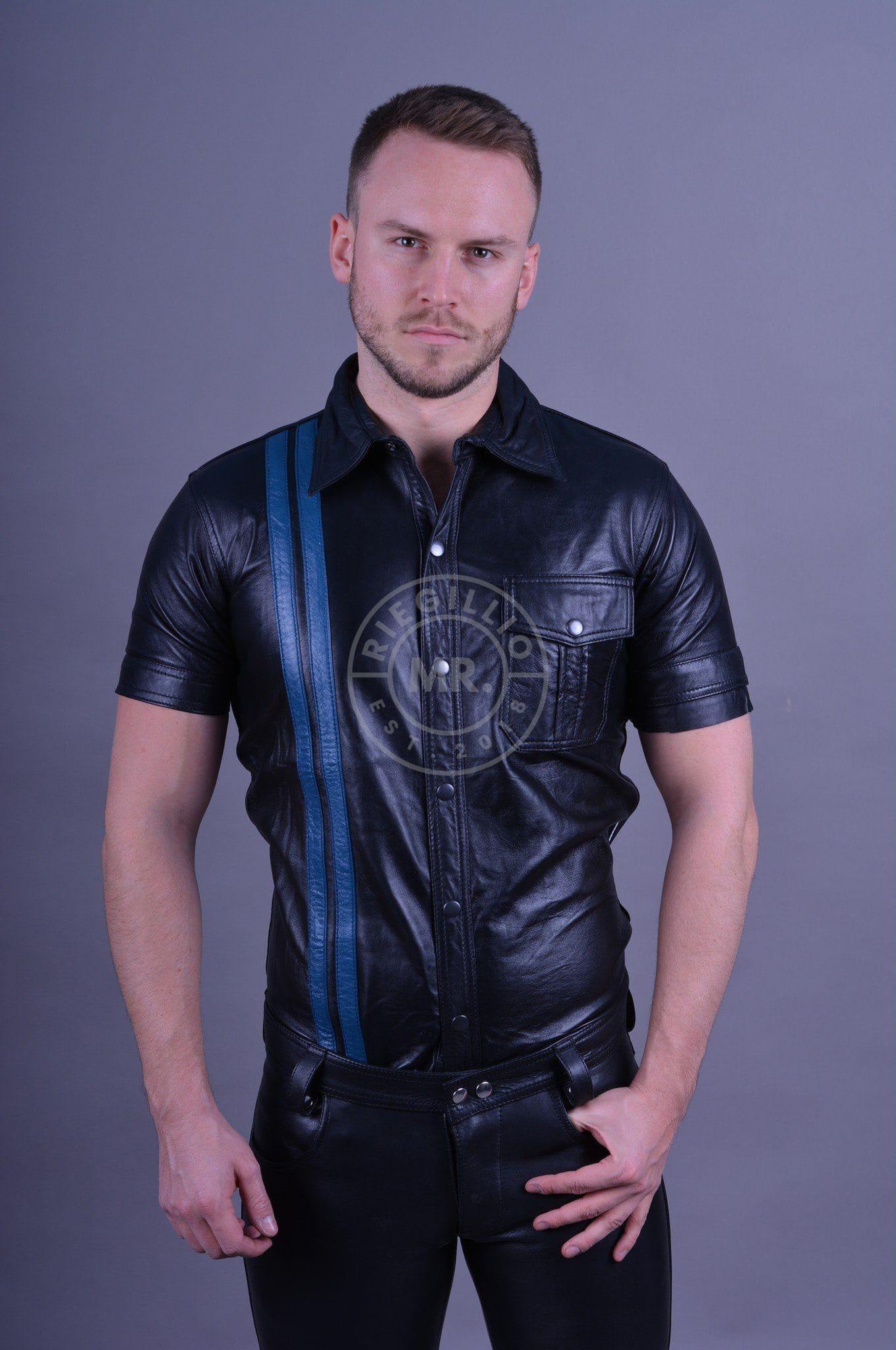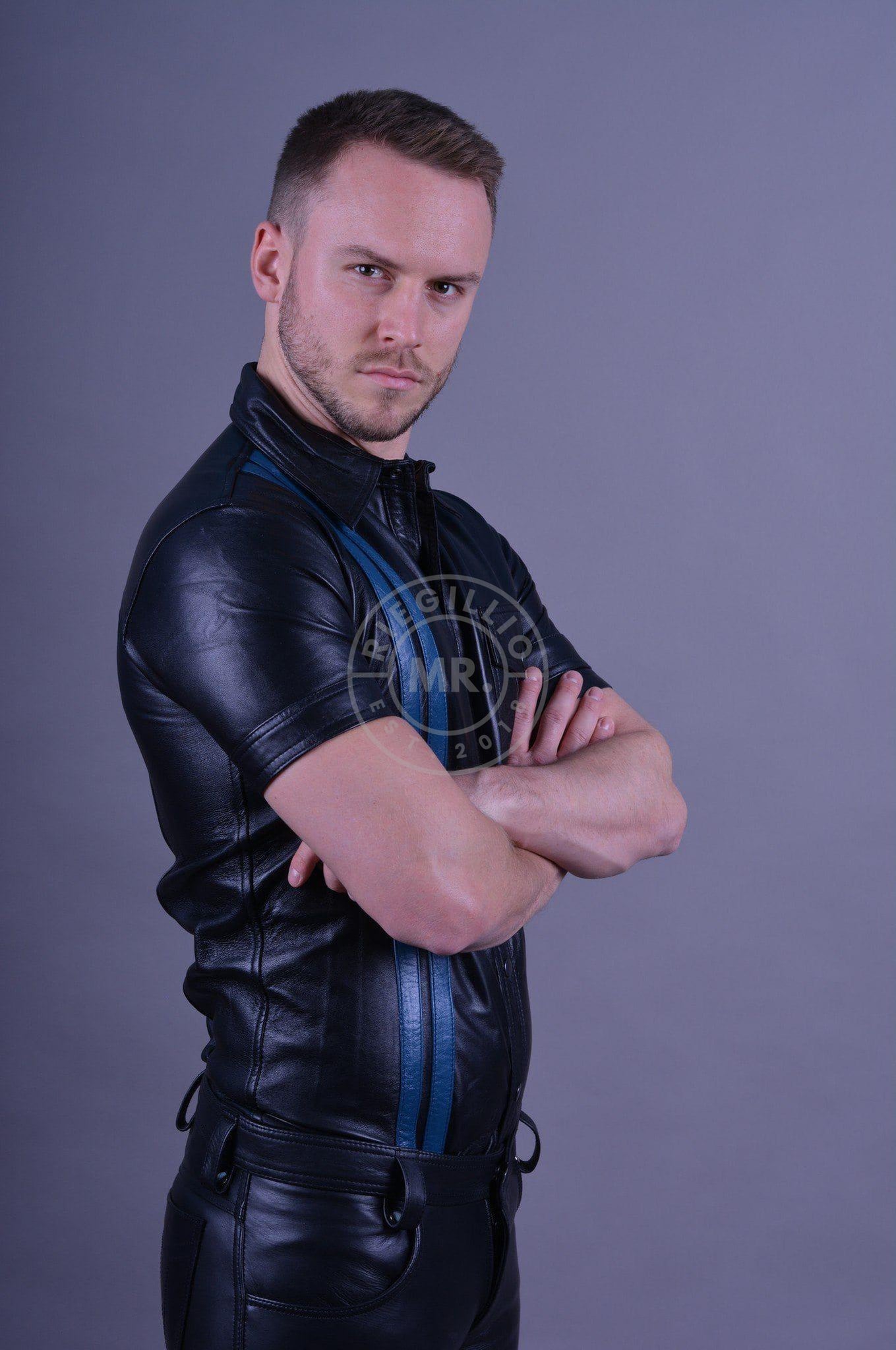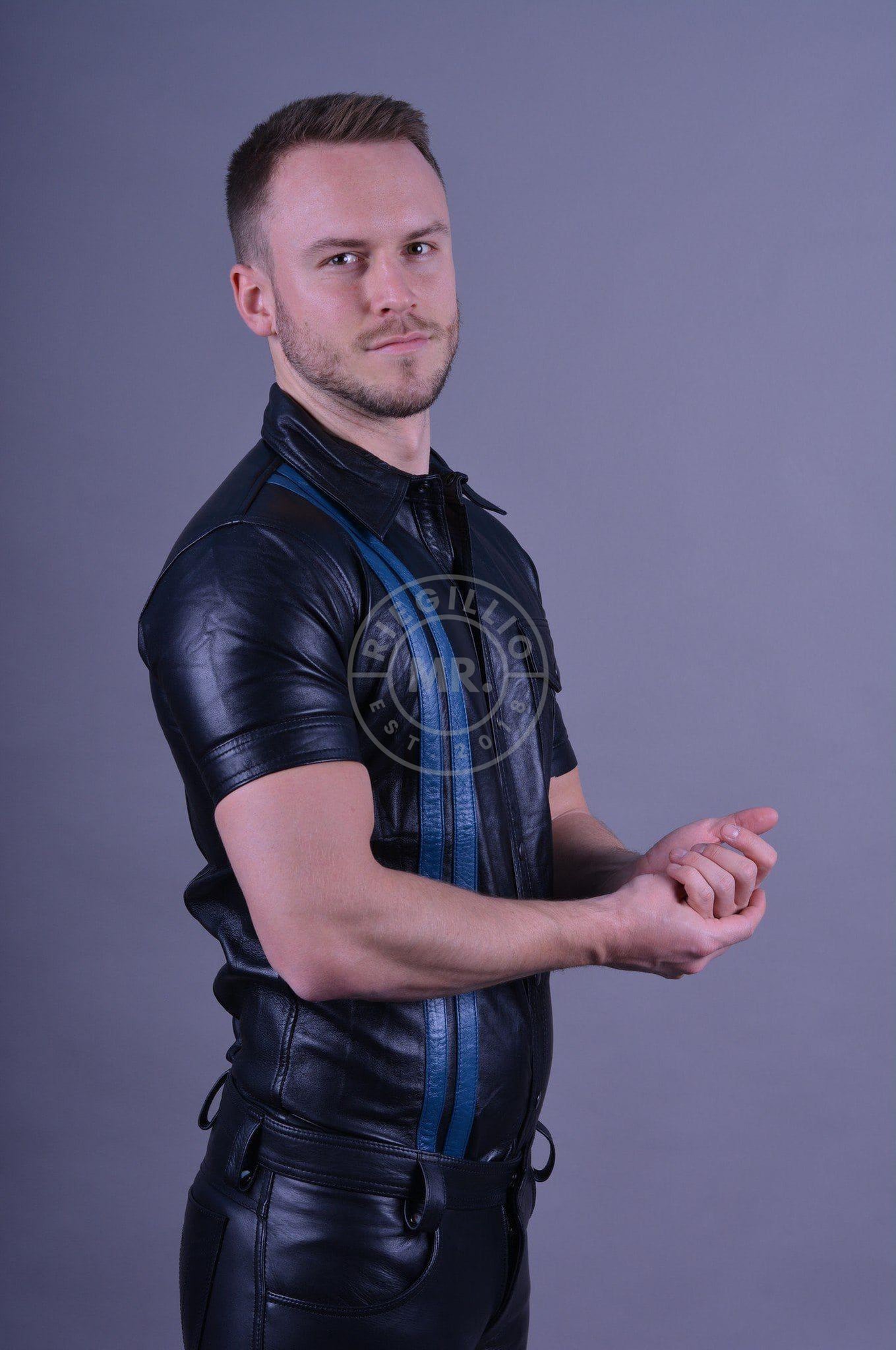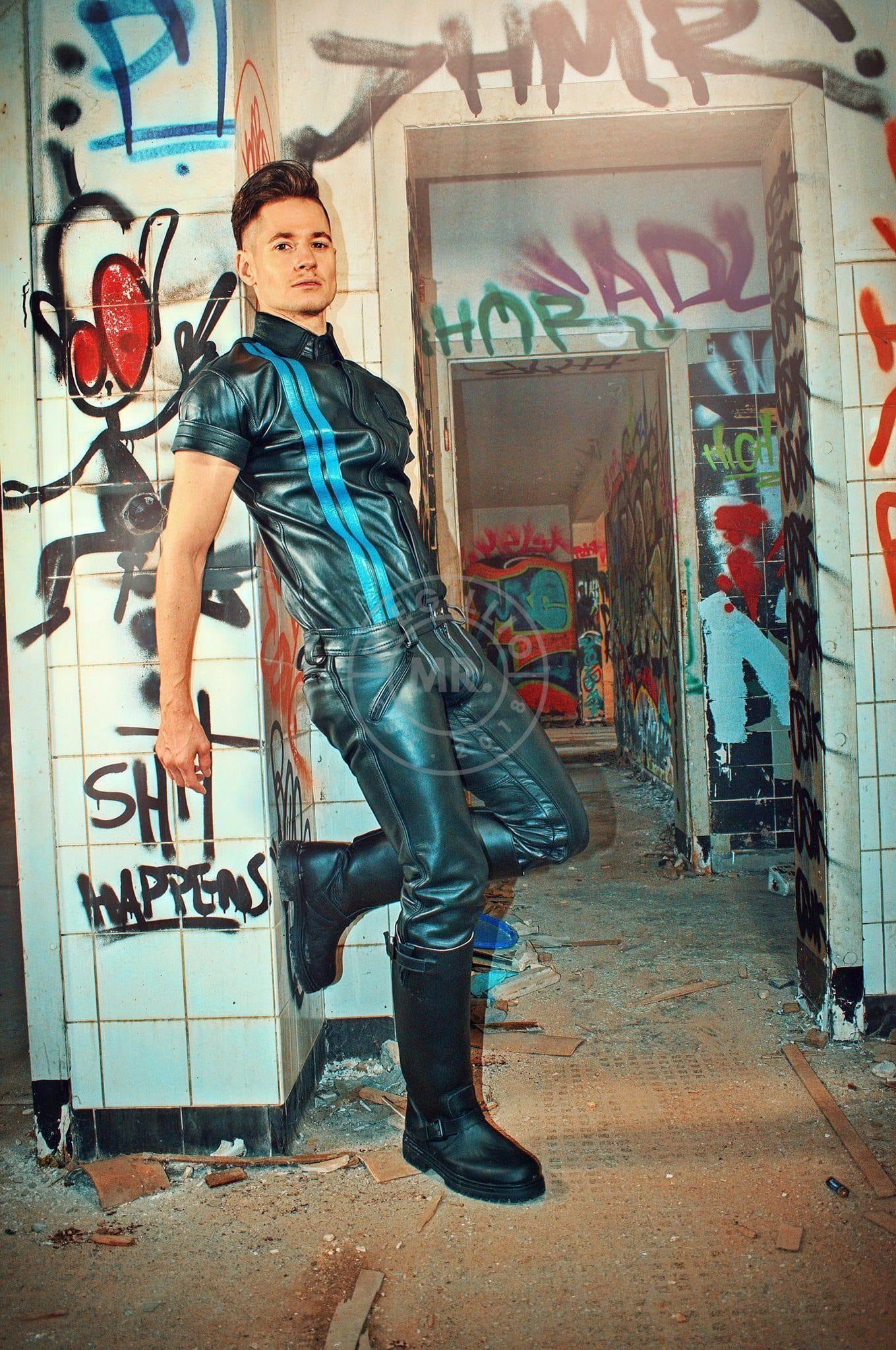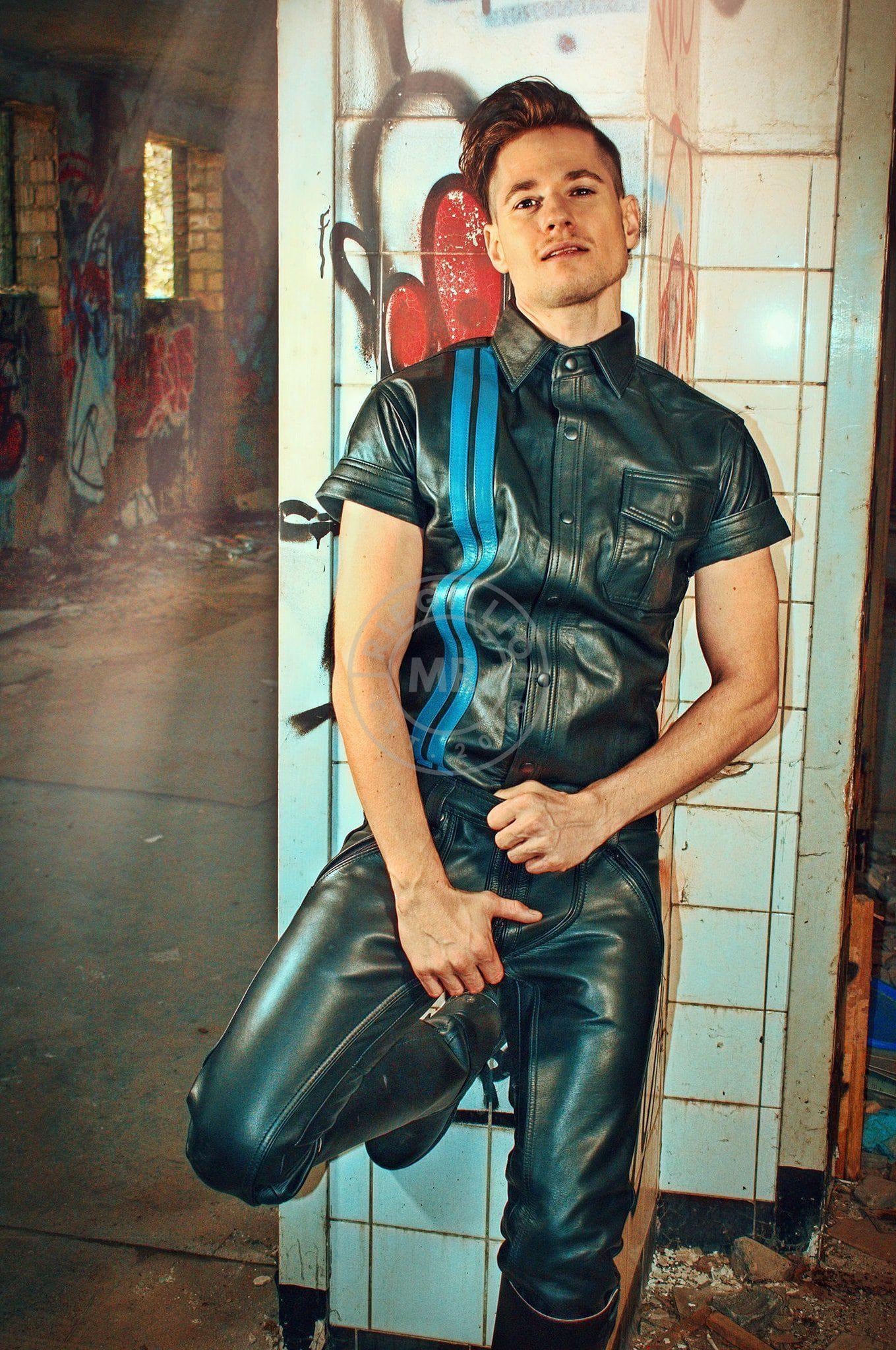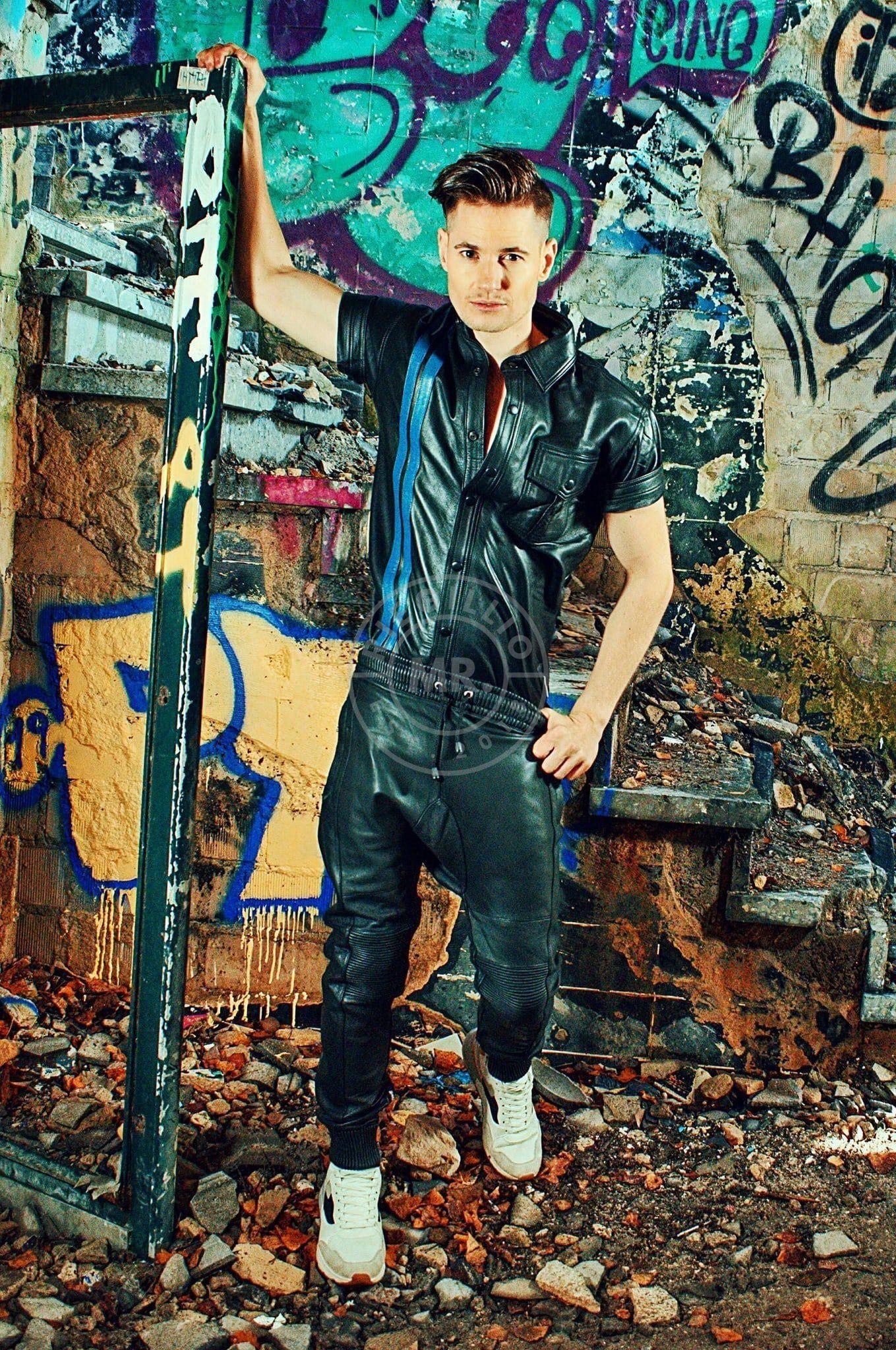 Black Leather Shirt - BLUE STRIPES
Sale price
€209.95
Regular price
(/)
​T​he ultimate prove; a fetish but fashionable shirt!
Wear it outside, or impress at a proper party. Up to you!

​This ​black leather fitted shirt features ​blue stripes, ​short sleeves, epaulets and two breast pockets. It's made from 100% aniline full grain sheep leather which is softer in touch and feel then cow leather. It got such a special treatment that it's very soft and smooth!

As it's a regular fitted shirt just order your normal size, or order 1 size smaller.
As you may know leather will continuously suit you more and more and it will get a little more spacious.

Also available with yellow, red or white stripes. Or plain black ;)

Combine this outfit with an Original Mr Riegillio leather tie, available in a matching colour or choose another colour! Wanna keep it clean? Have a look at the leather cleaners as well!

Sheep leather is known for its softness, light weight and strength. It is one of the most resilient leathers, as the leather is composed of a very dense weave of fibres of small diameter interspersed by numerous elastic fibres. This structure of the leather gives the hide a distinctive tight grainy texture with ridges, resembling to pebbles. The natural properties of the full grain sheep leather means that the backside can look like it's damaged, this is not the case, it occurs naturally inside the skins specially with sheep leather.



Leather Care Instructions

Hey there, I'm your leather clothing, and I've got a few tales to tell about how to keep me looking suave and fabulous!

First things first, I'm not your everyday fabric – I'm made from a special blend of manufactured and natural products, which gives me that unique and oh-so-special look. But here's a heads up: my color might get a little adventurous and transfer onto lighter materials. So, be aware!

Now, let's talk about my dislikes – I'm not a fan of showers (I don't like to swim) or sunbathing. So, please don't take me for a dip or leave me out in the blazing sun. I'm a delicate diva, you see.

To keep me in tip-top shape, here are a few style tips: 

Handle me with care and avoid direct heat and sunlight. Think of it as protecting your own skin from sunburn.
Keep me dry – damp and wet surfaces are a no-go zone for me.
When it's time for a little spruce-up, give me a gentle rubdown with a soft, dry cloth. I'm a fan of a little pampering.
But hey, don't introduce any chemical cleaners into our relationship. I like things au naturel.


While you're wearing me, I'll get more comfy and stylish, like your favorite pair of jeans. But here's the fun part – I might develop some quirks in service, color, and wearing comfort. My behavior and special character might even change a bit. But that's what makes me one-of-a-kind, and it's not something to complain about. Think of it as my way of keeping fashion exciting!

So, there you have it – the story of me and how to keep me looking fabulous. Let's rock this fashion journey together ;)

Check out all our cleaners here!
Not sure about sizing? Or have another question?

We are happy to help!

Click

here

to contact us and we'll response with lightning speed!
EUROPE - EU COUNTRY
€5,99
All orders are shipped with FedEx International Connect Plus

EUROPE - NON EU COUNTRY
€9,99
All orders are shipped with FedEx International Priority and does not include VAT & Customs

DEUTSCHLAND
€5,99
Zustellung nach Hause durch Hermes oder DHL Lieferung an Ihre vorausgewählte Packstation.
Optional > DHL Express: €24,99

NEDERLAND & BELGIË
€5,99
Je kunt kiezen tussen thuislevering, of bij een PostNL afhaalpunt.

RÉPUBLIQUE FRANÇAISE
5,99 €
Livraison à domicile par FedEx ou livraison par DHL à votre Point de Service préférentiel.

UNITED KINGDOM
€9,99 (+/- £8,70)
All orders are shipped with FedEx International Priority and includes VAT & Customs!

UNITED STATES
€19,99 (+/- $21.70)
All orders are shipped with FedEx International Priority and includes VAT & Customs!

REST OF THE WORLD
€19,99
All orders are shipped with FedEx International Priority and does not include VAT & Customs
Black leather shirt with blue stripes

Just love this shirt! Well made and fits like a glove. I will be back

Comfortable and soft shirt

I'm in love with this short. Its very comfy for everyday use and the leather it self is very soft. I ordered size to small, but the exchange process for bigger size as very easy. Trully love Mr. Riegillio product and customer service.

Another excellent purchase

Nothing but praise for the customer service that I receive every time I shop at Mr Riegillio

BF WAS MY BF MISTER R

I mention to you I would make further Purchases with you MISTER "R" I couldn't resist your BF Sale now your my BF for your wonderful Leather Shirts, my second purchased of a BLUE STRIPES Leather Shirt and also another full Black One.

MISTER "R" Many thanks I am one satisfied Customers, how are you going to taunt me in my Next Purchase now your my BF, and as I say you can't have enough Leather!

Great Shirt!

So soft, and the stripes give it a little 'pop.' Great shirt!
Choose options