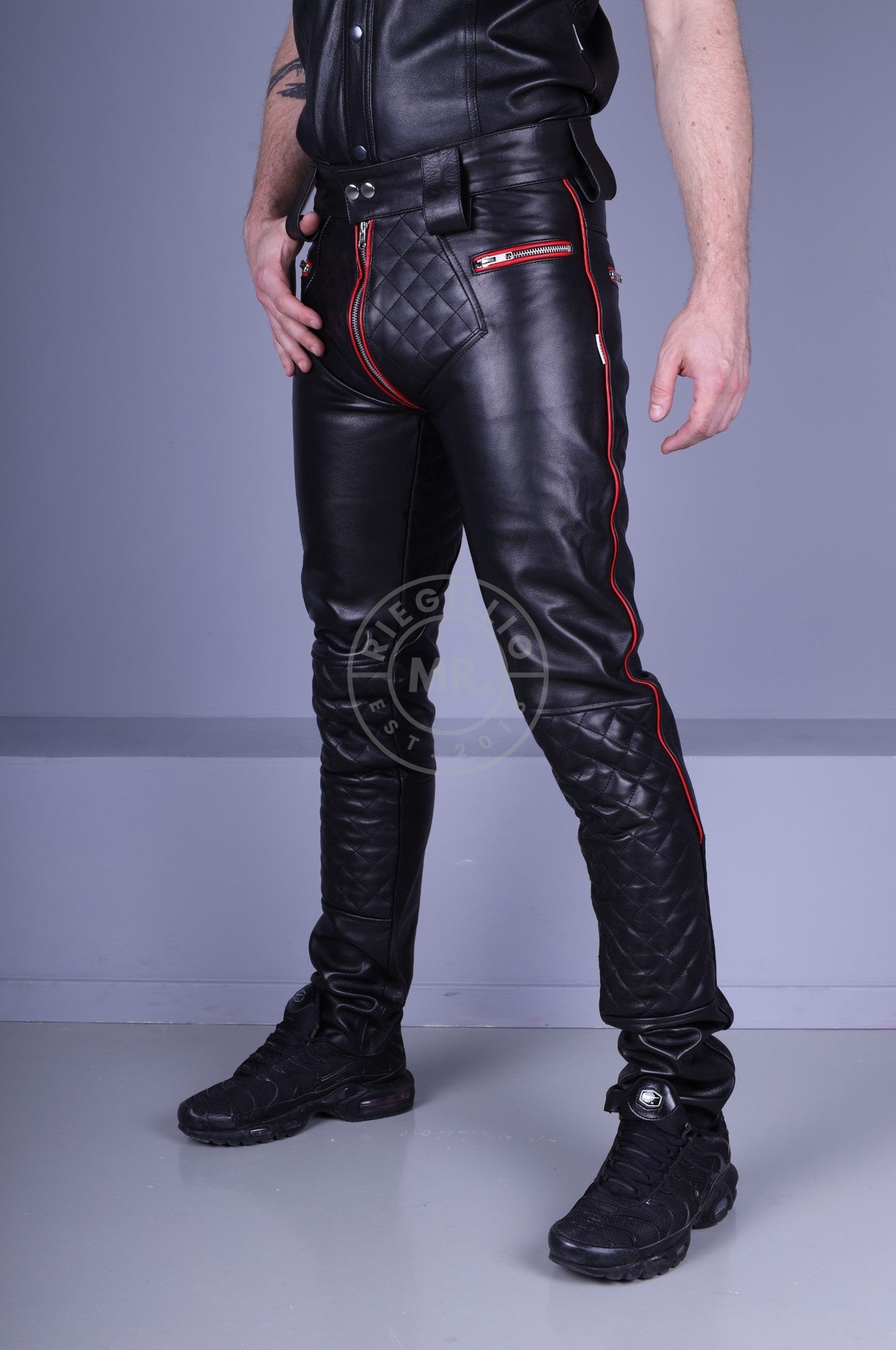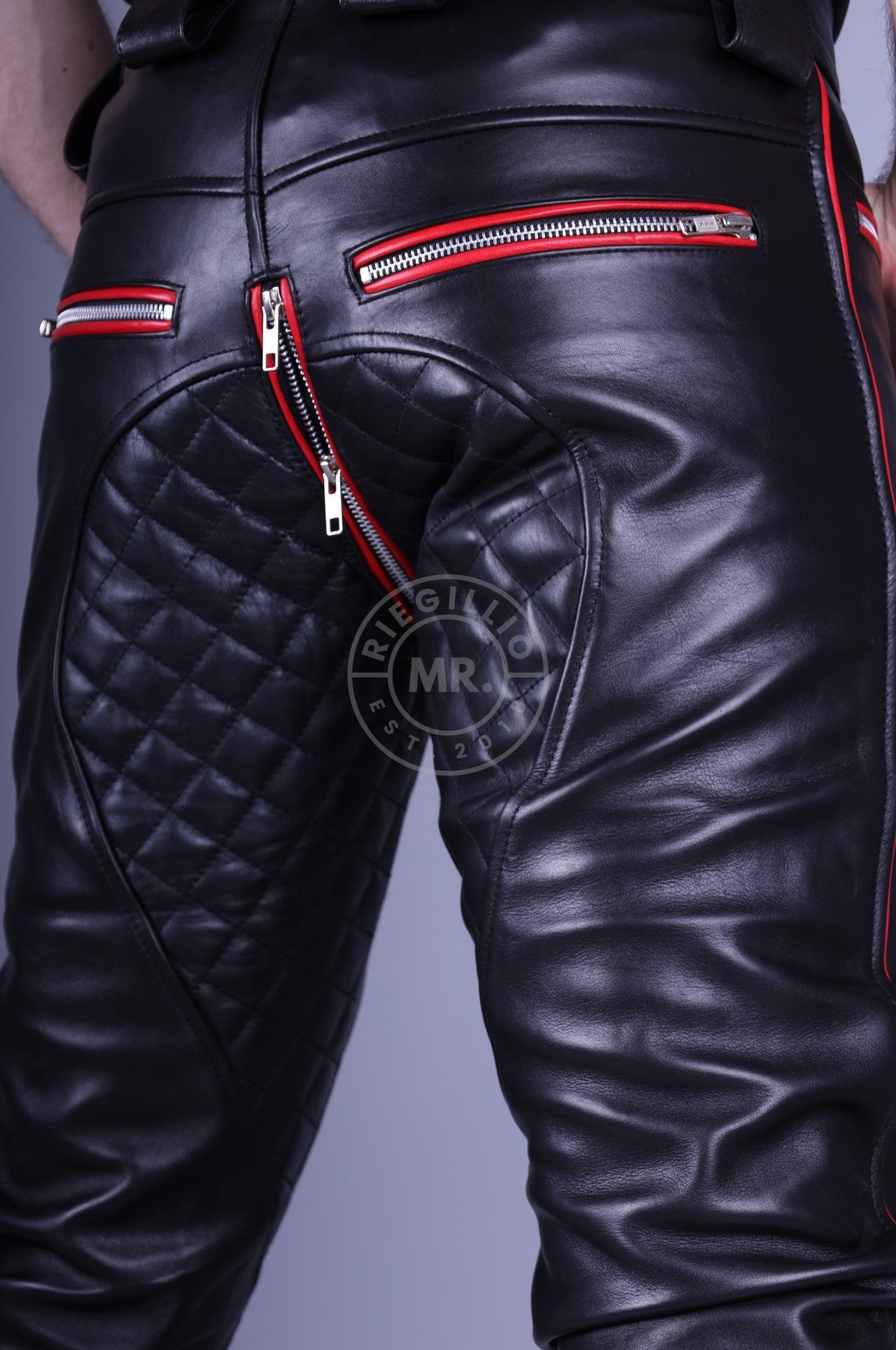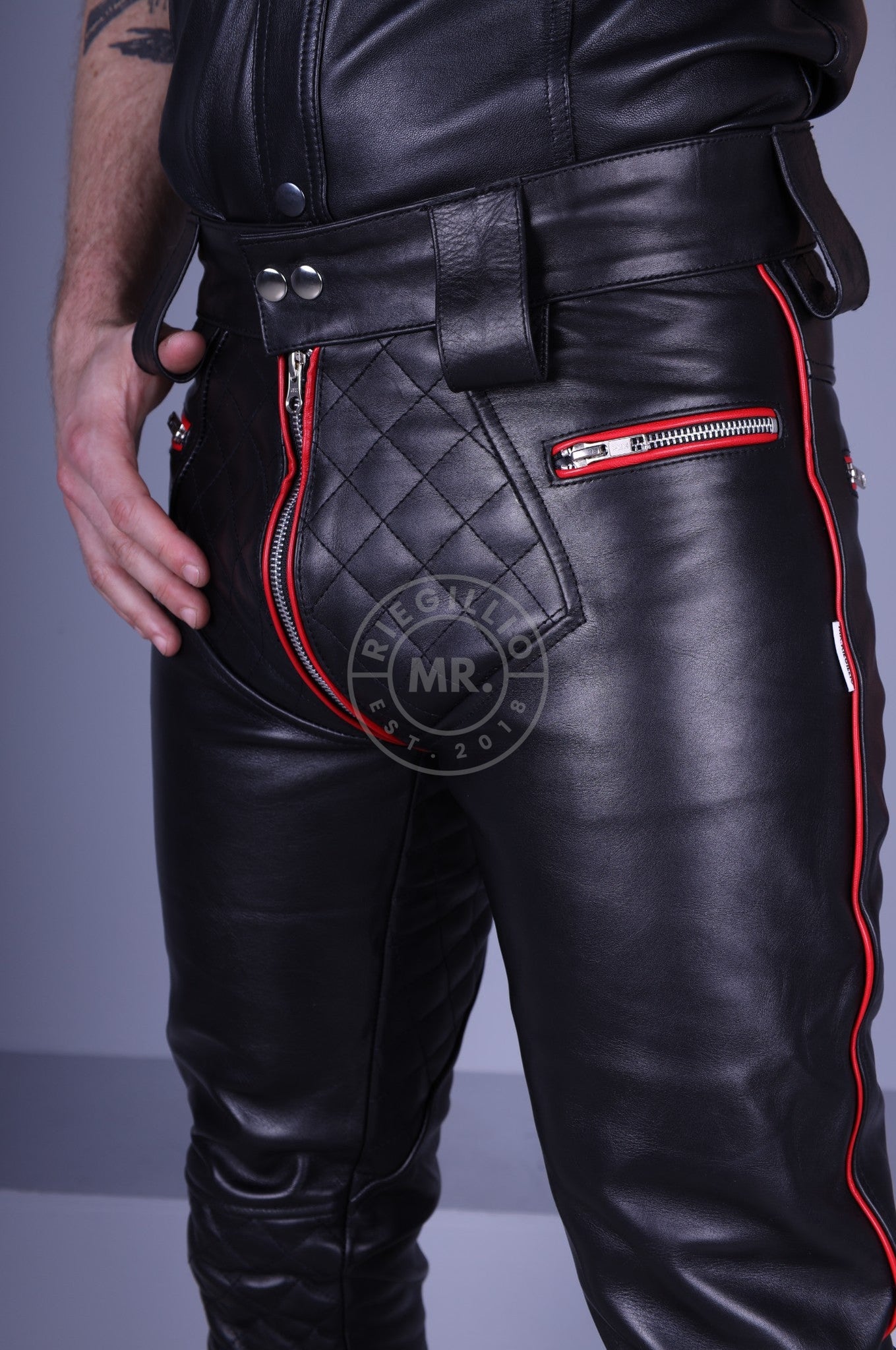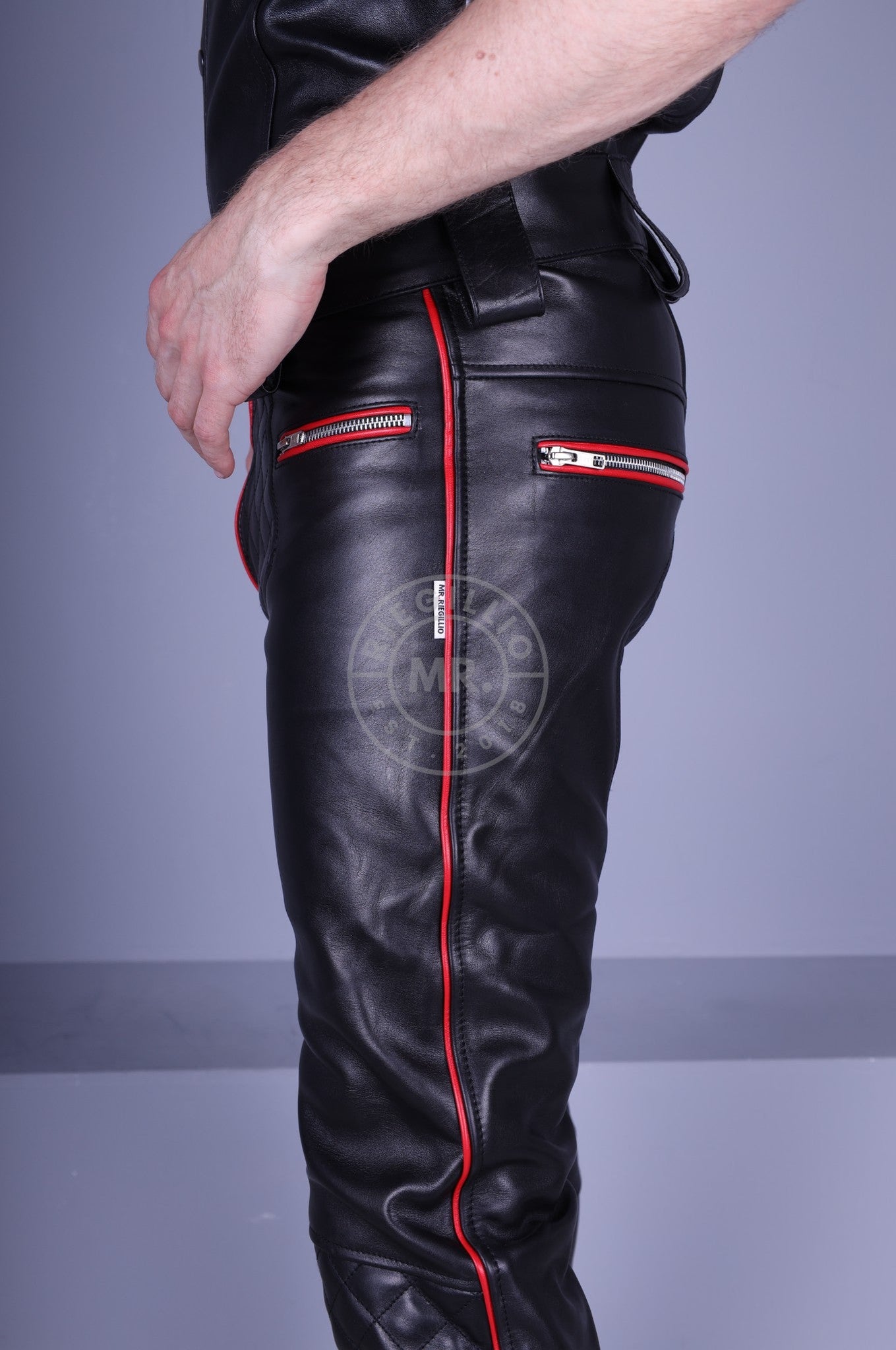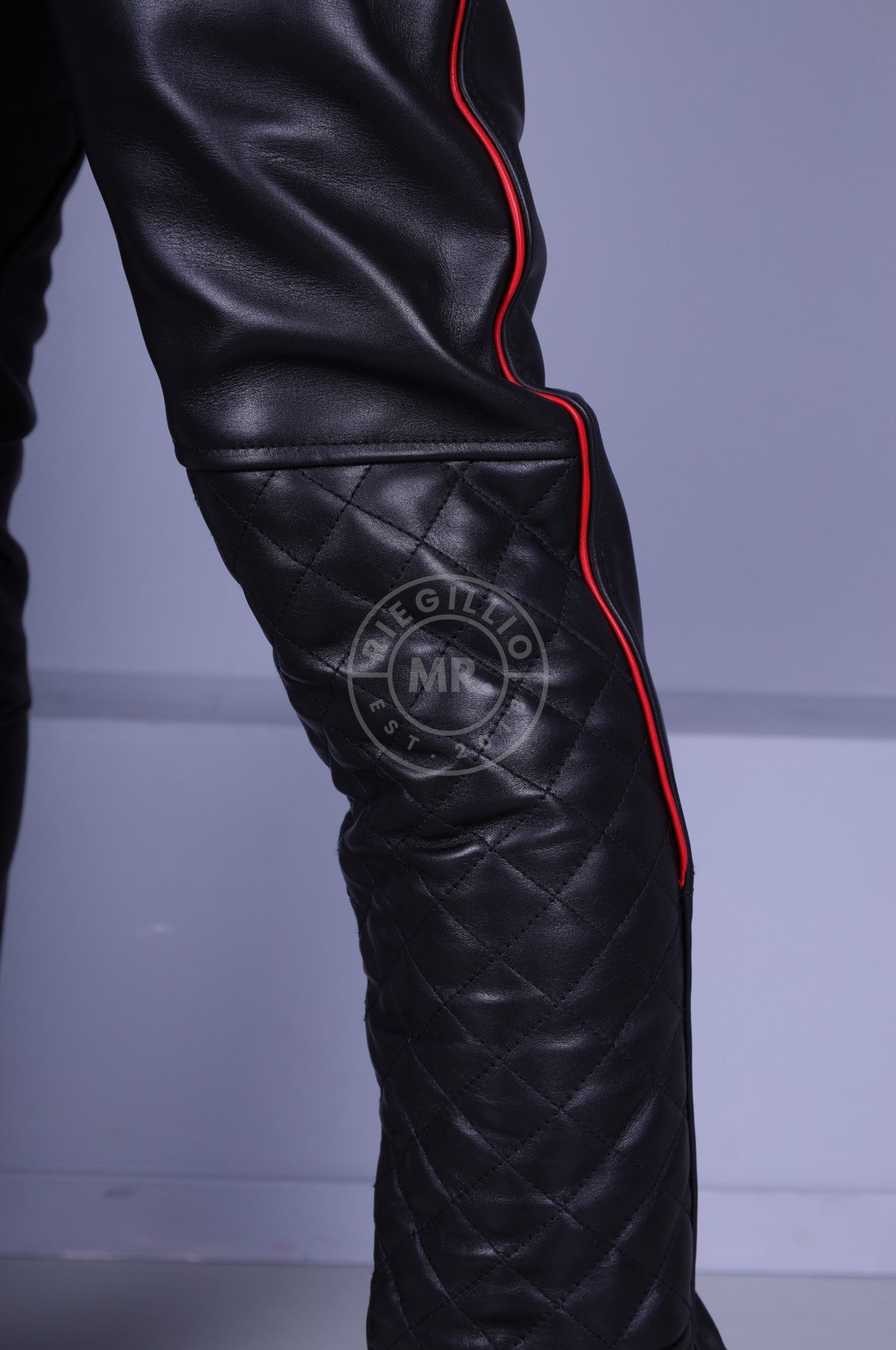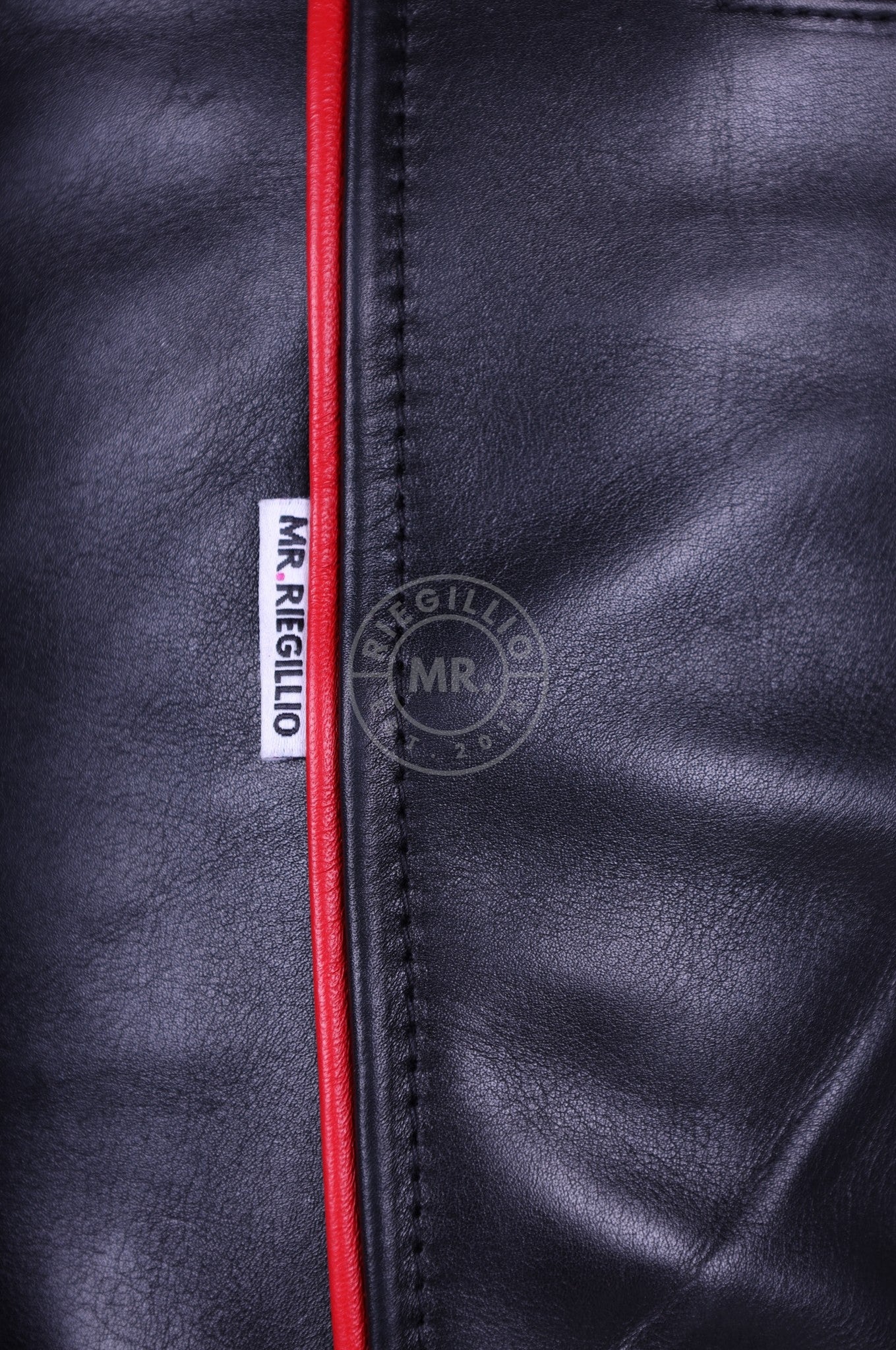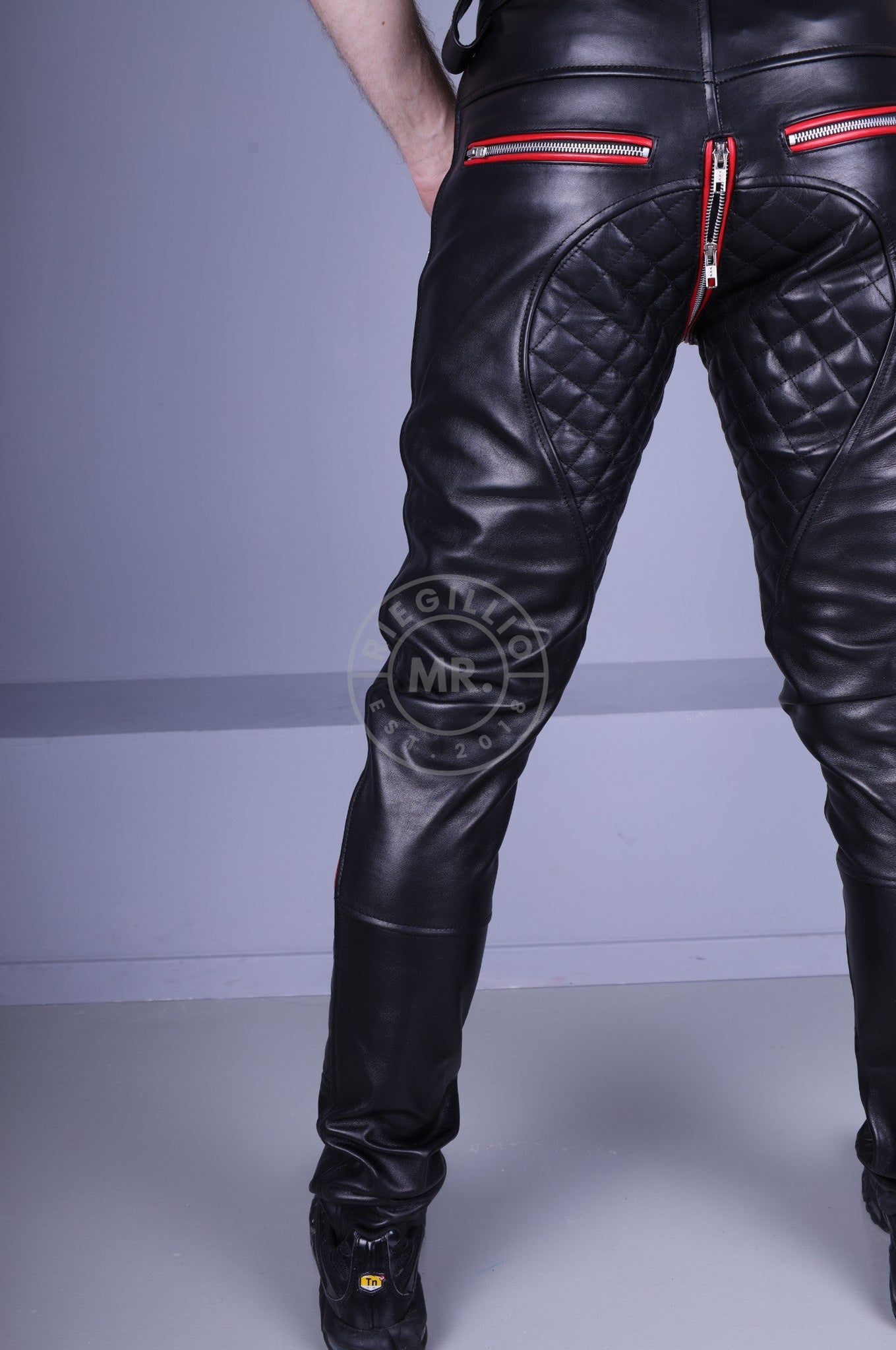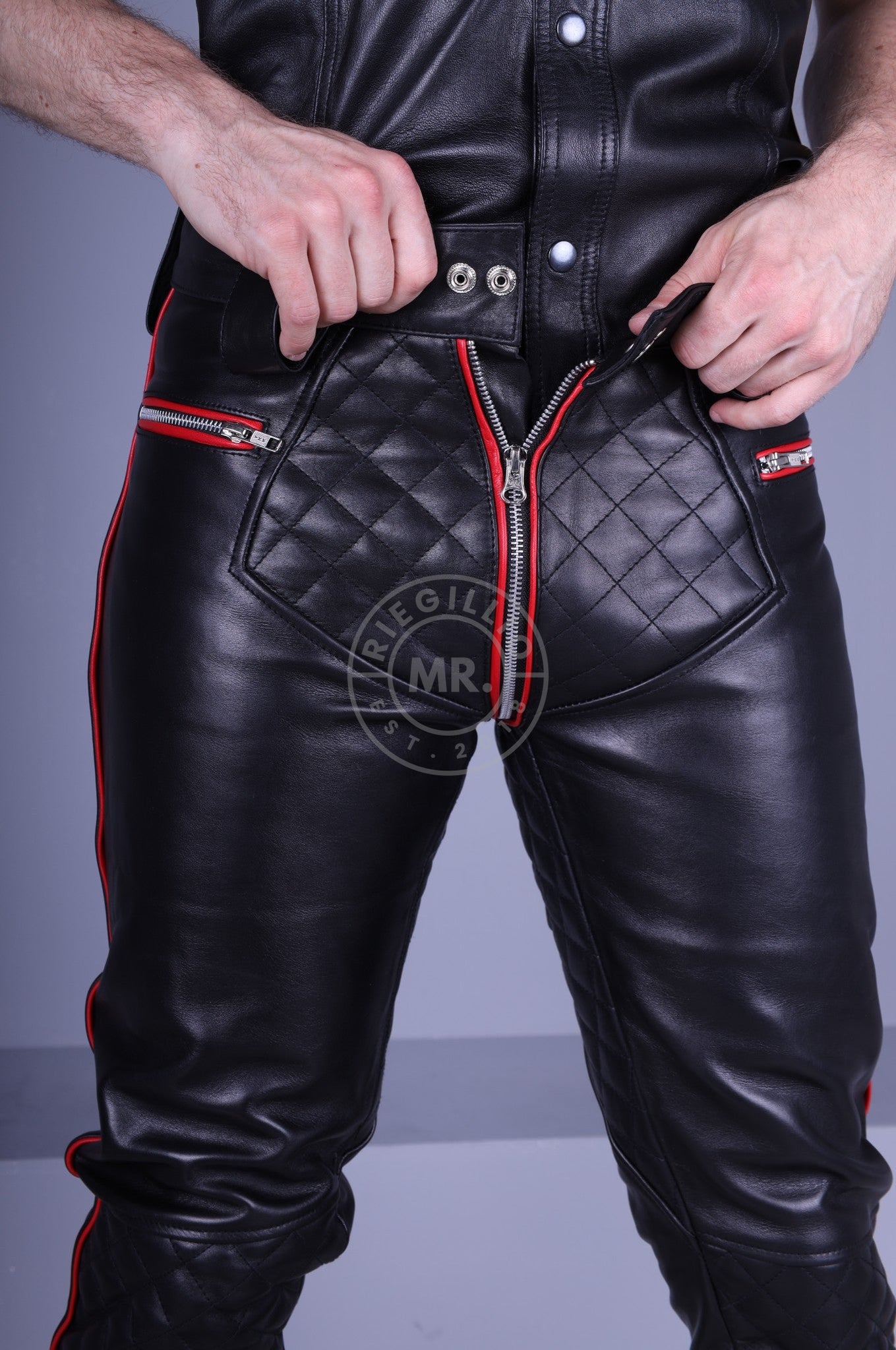 Padded Leather Pants - Red Piping
Sale price
€199.95
Regular price
(/)
Don't be intimidated by the intensity of these biker-style, padded leather pants with Red piping trim. MR. has placed his own flavor on these sexy suckers and there's no turning back. These pants feature a cross-hatched stitching on the padded areas on the knees, the crotch and saddle – in addition to accent colored piping along the front and back pockets, front fly zipper, and provocative accented thru zip back zipper. All pockets are zippered, belt loops accommodate a leather belt and pants have a double snap closure at the front. 

These pants will quickly become your favorite as they shape to fit your body over time. As the leather gets broken in, it will take on a personalized fit. Wear them with your favorite T-Shirt, hoodie or this smoldering Lace Up Brando Jacket. Create your own stylish twist with this new classic piece.

Upgrade your leather gear by adding these to your bar outfits or daily wear. Available in the most popular leather code colors, signal your preferences from near or far. These pants are made from genuine leather and will be in your closet for many years with proper care. Created by MR. only available @ MR. Riegillio. 
Leather Care Instructions

I'm (just like you) something very special as I am made out of a very special manufactured and natural product. Through this I'm achieving my special and unique look. Please note; my colour might transfer on to lighter coloured materials.

Please don't take a shower with your garment (it doesn't like to swim) or let it sun(bathe). Our leather products are designed and crafted of the finest materials available. To maintain the appearance of your leather product we recommend the following:

- Treat the item with care, and limit exposure to direct heat and sunlight.

- Keep this item dry, and avoid damp or wet surfaces.

- Clean with a soft dry cloth.

- Do not use any chemical cleaners to care for this product.

While you are wearing me I will continuously suit you more and more. Additional and unforeseeable irregularities on service, color and wearing comfort can occur and the behaviour and special character of the leather might change. This makes the product unique and can not be seen as a cause of complaint. 

We also have a special leather cleaner available, click 

here

.
Not sure about sizing? Or have another question?

We are happy to help!

Click

here

to contact us and we'll response with lightning speed!
EU

Orders till €100: €5,99
Orders above €100: free shipping
All orders are shipped with FedEx Express.



NETHERLANDS & BELGIUM

Orders till €100: €5,99

Orders above €100: free shipping
All orders are shipped with PostNL (incl drop off points).

GERMANY

Bestellungen an €100: €5,99

Oben €100: Kostenloser Versand
Zustellung nach Hause durch Hermes oder DHL Lieferung an Ihre vorausgewählte Packstation.

DHL Express: €24,99

FRANCE
Commandes de 100 € et moins : 5,99 € de frais de livraison

Commandes de plus de 100 € : livraison gratuite

Livraison à domicile par FedEx ou livraison par DHL à votre Point de Service préférentiel.

UNITED KINGDOM

Orders till €100: €9,99

Orders above €100: free shipping

All orders are shipped with FedEx Express Service and includes VAT & Customs!

UNITED STATES

Orders till €250: €19,99

Orders above €250: free shipping

All orders are shipped with FedEx Express Service and includes VAT & Customs!

NON EU & REST OF THE WORLD

Orders till €300: €19,99

Orders above €300: free shipping

All orders are shipped with FedEx Express Service and does not include VAT & Customs
Sexy as F

Purchased these jeans with to be honest months of hesitation. So I bit the bullet and I have to say they are the most comfortable jeans to wear casually (which im not brave to do the food shopping in yet) and scene wear.
Customer service was top notch and any enquiries I had the guys had set me mind at ease. The most comfortable and sexy jeans I have.

TOP-Service & Bedrijf

Geweldige services en perfecte items. Een echte aanrader om bij Mr. Riegillio aankopen te doen.

Carta de medidas

La carta de medidas en este producto en particular no se ajusta a los tamaños reales por lo que me quedo grande en al menos una talla

Another great product from Mr R!

These leather pants are amazing! The quality of the leather is superb and the pants look super hot and very stylish. So many options to wear these with - a plain tee or full leather with a shirt. These pants will last you for years - superb work from Mr R!
Choose options