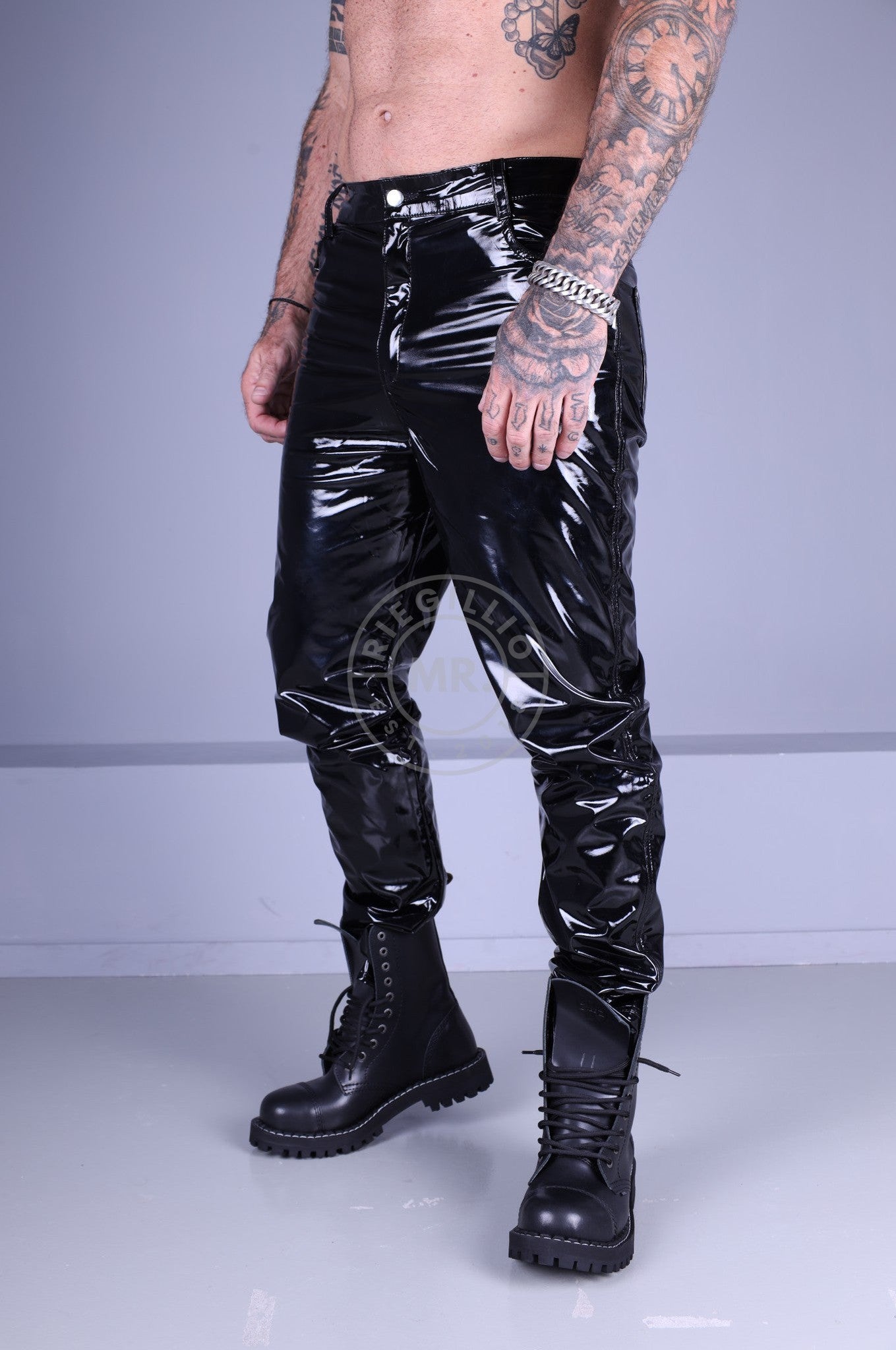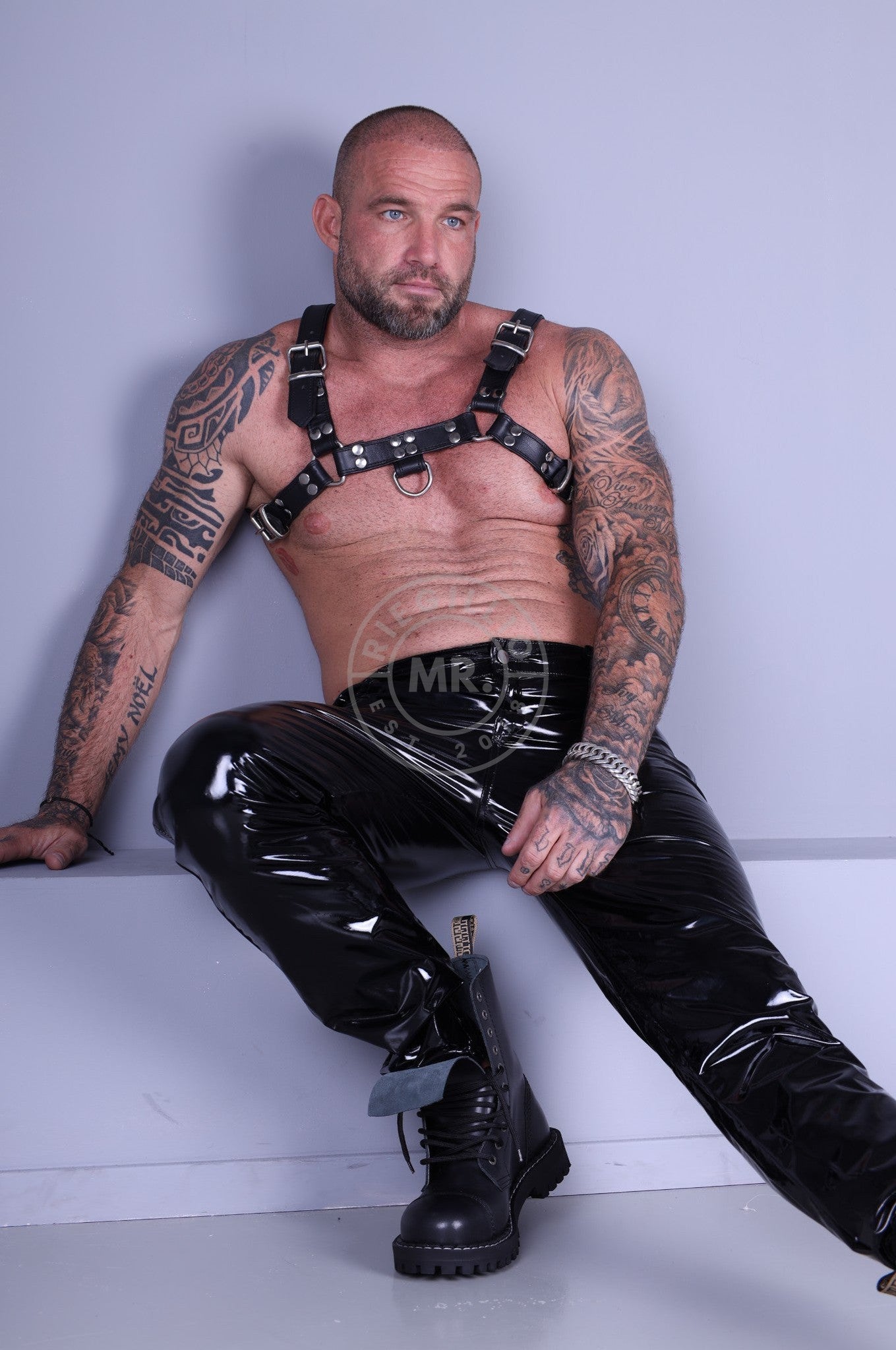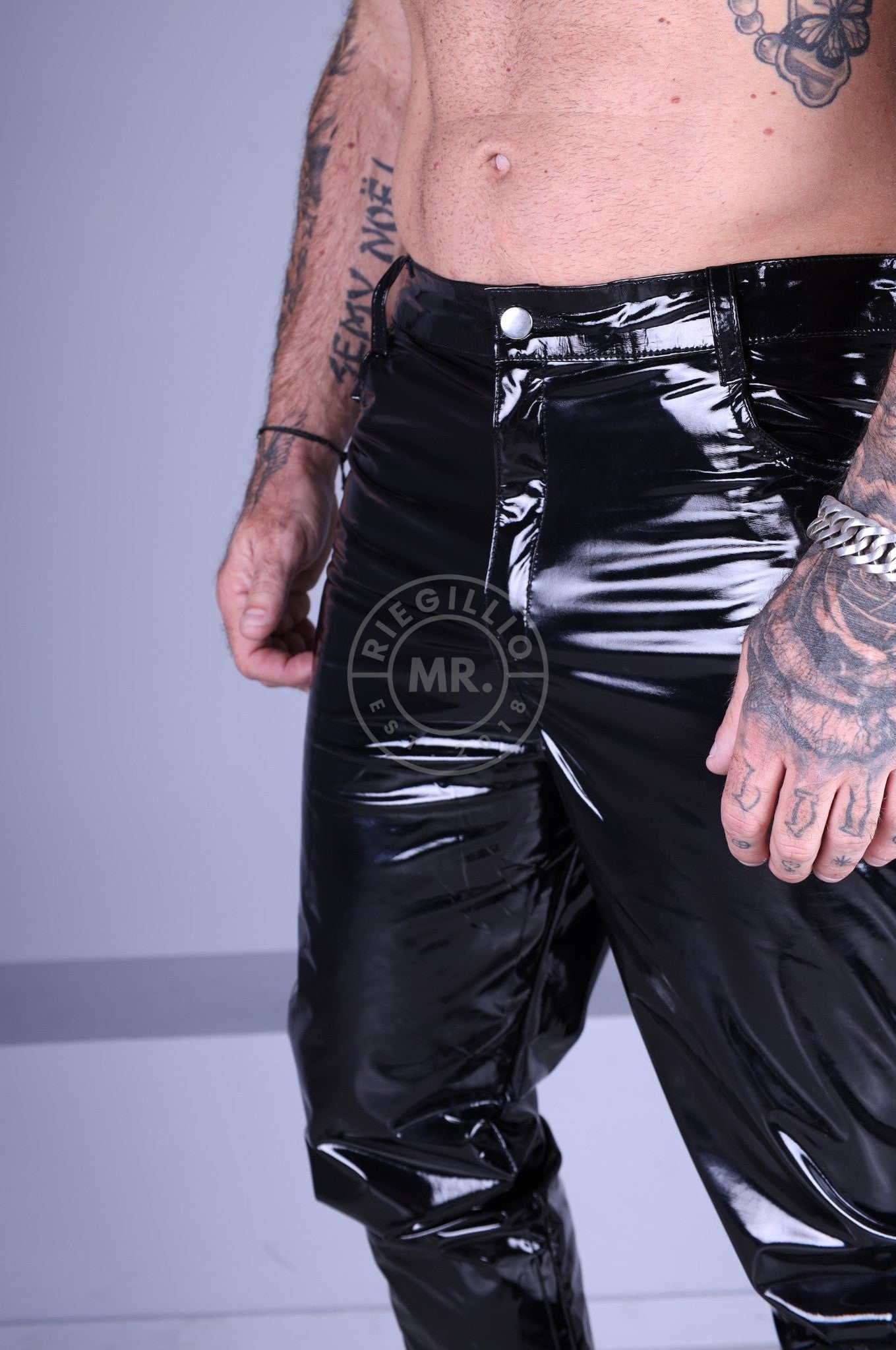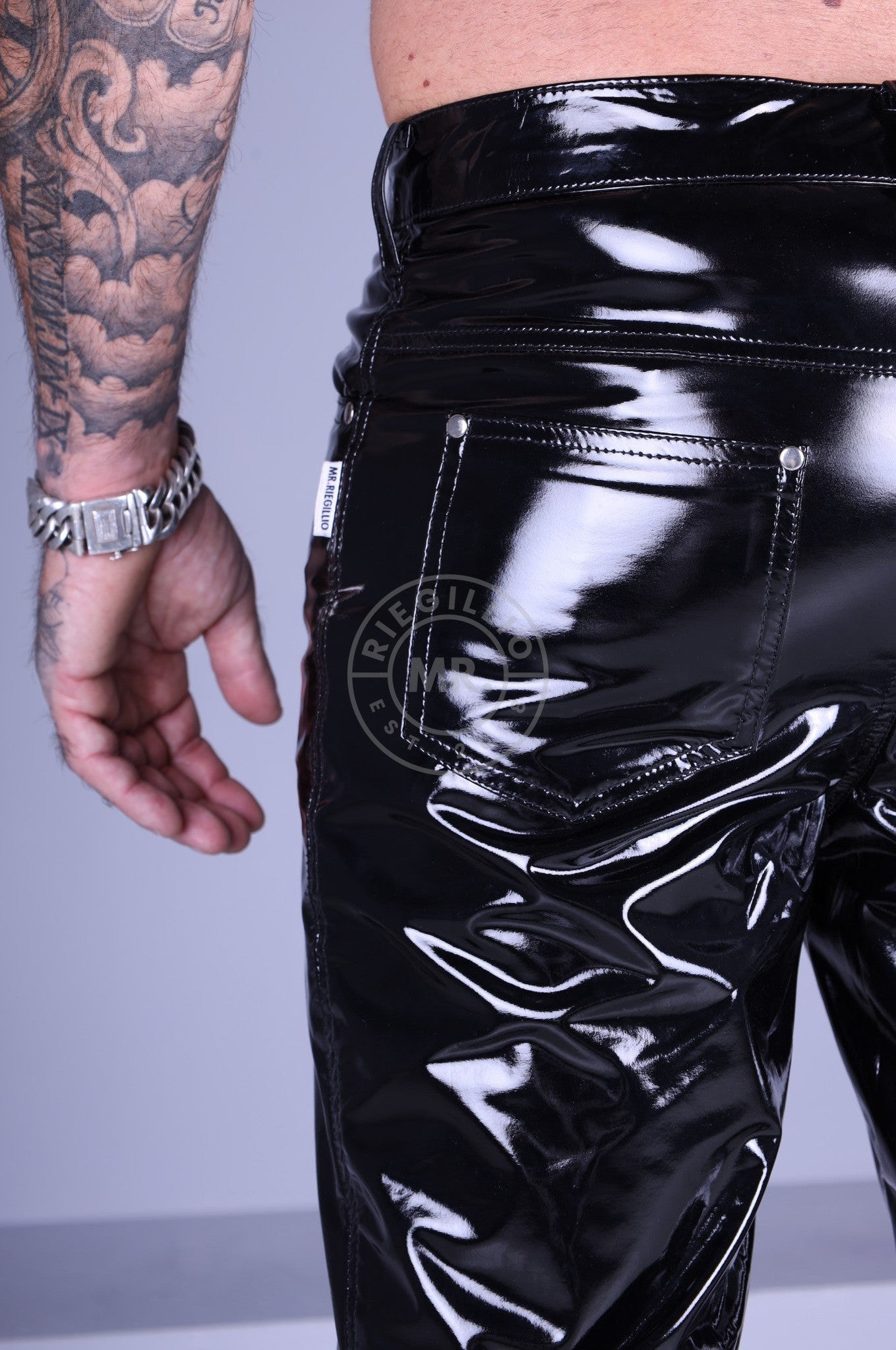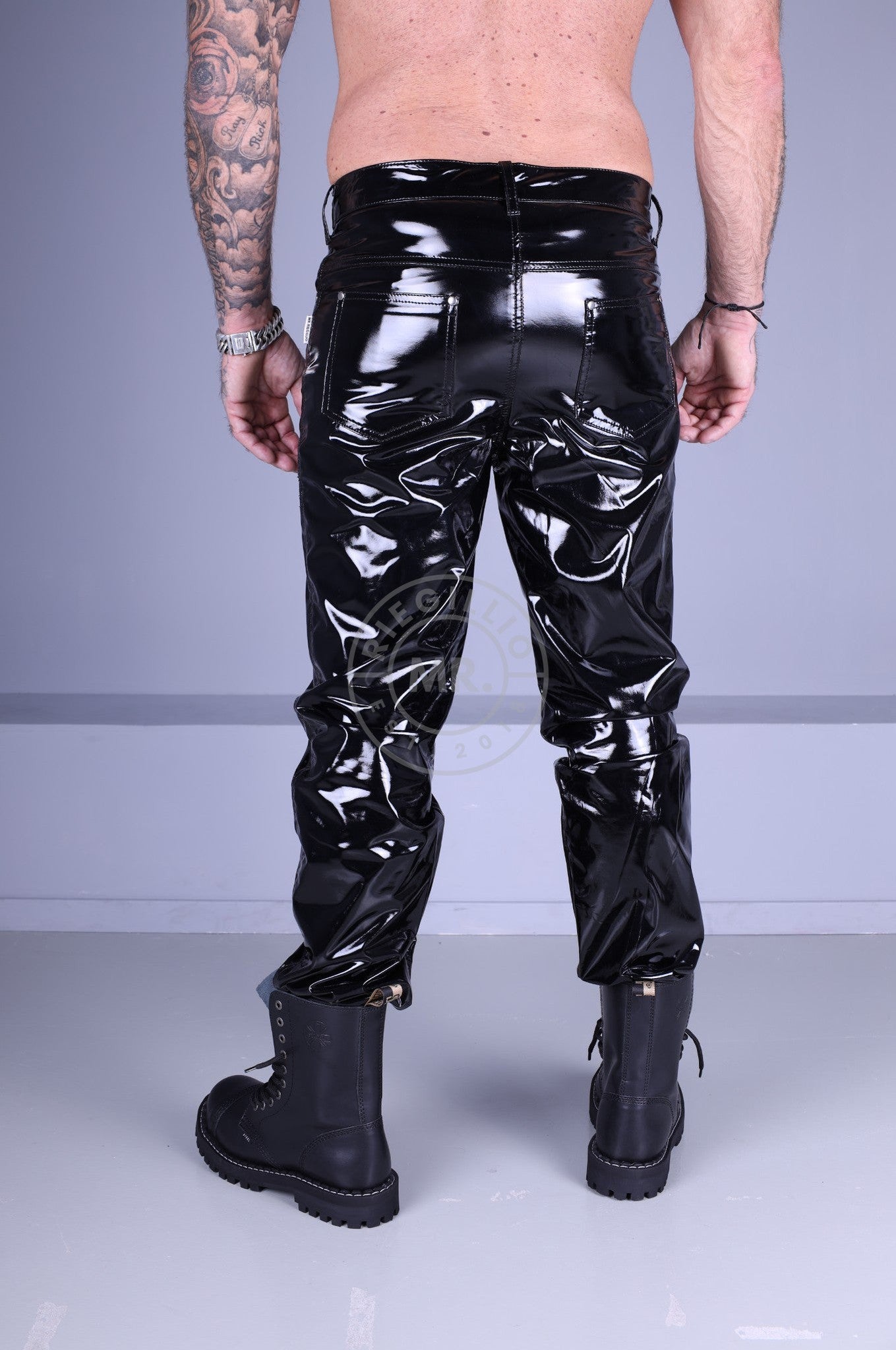 PVC Pants
Sale price
€89.95
Regular price
(/)
It's slick, it's sleek, it's PVC! This pant deserves a standing ovation, you'll adore it!

This high waist classic jeans-style PVC pants You'll be shakin' your booty in style with these ultra-chic pants! Rain or shine, these pants will keep you looking sleek and sharp - and maybe even a bit more daring. is shiny on the outside, and like our whole PVC collection, soft on the inside.

Important size information
PVC is a non-elastic material, which means that once it has been stretched it will not go back to its original finish and shape. We recommend to order your PVC pants one size larger than your original jeans size.

Well, hello there, I'm your snazzy PVC clothing, and I come with some care instructions that are almost as stylish as I am!

First off, let's address the elephant in the room – I'm not the elastic type. Once I'm stretched, there's no going back to my original glory. But don't fret, because with a little stretch comes a whole lot of character and uniqueness. Those wrinkles? They're like my fashion badges, and you can't complain about that!

Now, when it's time to put me away, please don't fold me up like a complicated origami project. Hang me on a clothing hanger, and I'll stay looking sharp, just like you want me to be.

But wait, there's more:

We all love baking, but here's a PSA: keep the butter away from me. I'm not a fan – it's a "CriscNO" situation.
Oh, and when it comes to oil-based liquids, I'm a bit sensitive. PVC and oil? Not a match made in fashion heaven. But if you're in the mood for some adventure, I'm all for silicone lubricant.


Now, when I need a little sprucing up, all you need is a wet towel or a nice, not too hot, warm handwash. Or check out our fancy-pants PVC cleaner. It's like a spa day for me! Or, here's a fun idea: give me to your mother. She knows how to handle me like a pro!

And for my trendsetting friends wearing the black PVC tracksuits with those snazzy stripes, some come with plastic foil for protection during their travels. But once they're out of the bag, it's time to say goodbye to the foil. The reason for this protection is to prevent friction marks on the stripes during transport. So, when you're packing me in a suitcase, fold the tracksuit in a way that protects those stripes – maybe use your t-shirt, boxer shorts, or any cotton fabric as a shield.

Oh, and for those of you rocking the PVC Thru Zip Pants, remember this golden rule: when you sit down, make sure those sliders are at the very ends of both sides. Sitting on the sliders? Well, that could lead to some serious fashion faux pas!

And there you have it, the not-so-basic guide to keeping your PVC outfits looking stylish and fabulous. Rock on, my fashion-forward friend!

Check out all our cleaners here!
Not sure about sizing? Or have another question?

We are happy to help!

Click

here

to contact us and we'll response with lightning speed!
EUROPE - EU COUNTRY
€5,99
All orders are shipped with FedEx International Connect Plus

EUROPE - NON EU COUNTRY
€9,99
All orders are shipped with FedEx International Priority and does not include VAT & Customs

DEUTSCHLAND
€5,99
Zustellung nach Hause durch Hermes oder DHL Lieferung an Ihre vorausgewählte Packstation.
Optional > DHL Express: €24,99

NEDERLAND & BELGIË
€5,99
Je kunt kiezen tussen thuislevering, of bij een PostNL afhaalpunt.

RÉPUBLIQUE FRANÇAISE
5,99 €
Livraison à domicile par FedEx ou livraison par DHL à votre Point de Service préférentiel.

UNITED KINGDOM
€9,99 (+/- £8,70)
All orders are shipped with FedEx International Priority and includes VAT & Customs!

UNITED STATES
€19,99 (+/- $21.70)
All orders are shipped with FedEx International Priority and includes VAT & Customs!

REST OF THE WORLD
€19,99
All orders are shipped with FedEx International Priority and does not include VAT & Customs
Pvc Jeans

Work great except I wish you had waste 29 and had low waste.

Beau jean très brillant!

Très brillant et extensible. J'ai choisi la taille 36 et elle me convient parfaitement. Mon tour de taille est de 90 cm.

Hot look & lower Quality

Size specifications fit perfectly. Only the quality of workmanship leaves something to be desired: the seam of one of the belt loops came loose already at the first tightening and was not sewn properly. This was annoying.😔

I love it but i would be better if

Im absolutely satisfied with my purchase for the PVC Tshirt and Pants, Tshist was tight and awesome but for the pants I would prefer it has skinner cut in the bottom parts, I personally think it would be looks better :)
Choose options